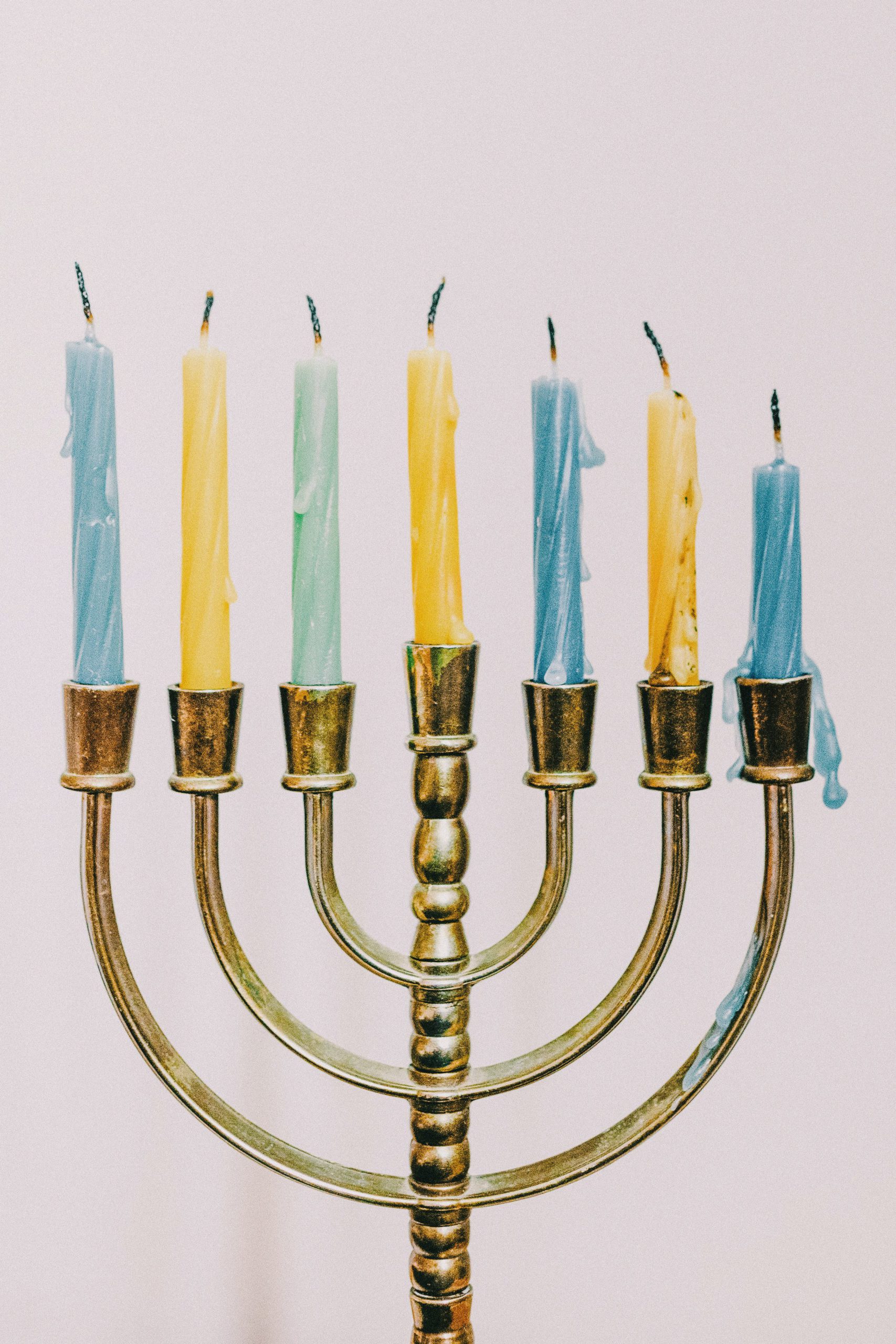 Can you believe it's November already? And the holidays keep on rolling in! What better way to celebrate than with Hanukkah snacks!
The next one we would like to tell you about which falls on the 28th of November and is celebrated till the 6th of Dec this year, is a celebration of the Jewish faith, the festival of lights called Hanukkah. It became a traditional holiday when the Maccabees defeated the Syrian Greeks to reclaim the Holy Land, including a temple where the first lighting of the Menorah was held. The miracle in the story is that the oil, which should have lasted for one day, lasted for eight whole days, helping light up all the candles of the Menorah. And thus, Hanukkah was born!
Hanukkah is a special time in Israel and celebrated by many in the world. Every night for 8 days each family lights a Hanukkiah, the nine-branched candlestick lamp and places it on the window for everyone to see. Did you know this lamp is sometimes referred to as a Menorah? However, a Menorah only has seven candleholders and was the lamp used in the ancient holy temple in Jerusalem – now a symbol of Judaism and an emblem of Israel. According to tradition, the light of a small candle can fight the darkness around you.
Picture this… hundreds of candles lit up together in a celebration of lights and festivity, it must be an amazing sight to see!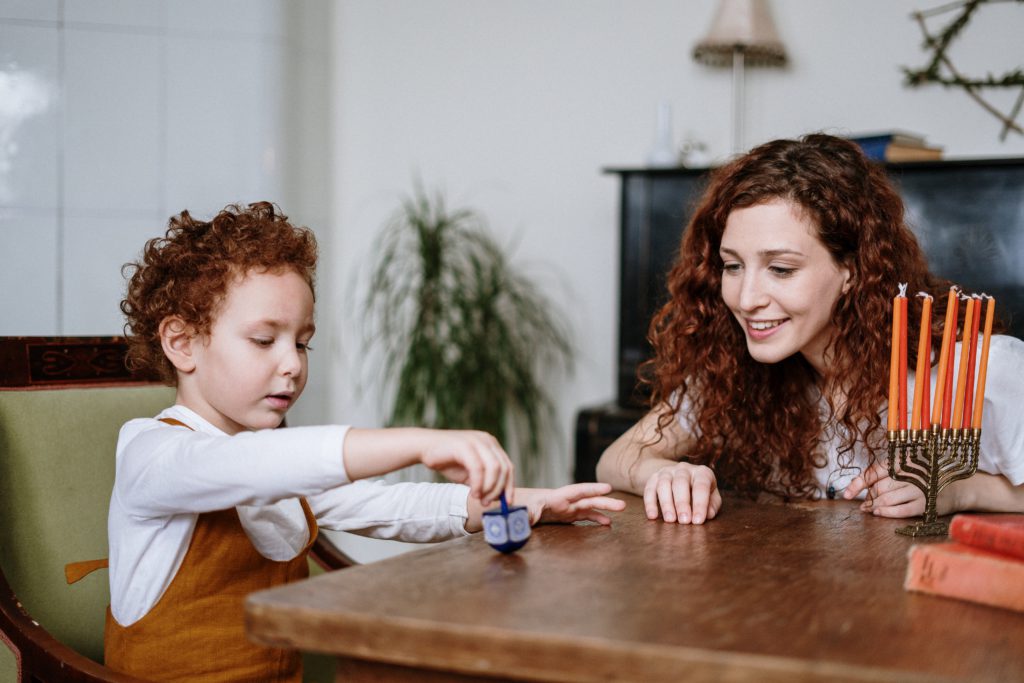 Each evening when the candle is lit, the family comes together to pray and sing. Part of the meal that follows is traditionally fried foods, often donuts and potato pancakes, reminiscent of the vial of the miraculous oil. Children enjoy playing with a dreidel. A dreidel is a wooden spinning top that has four sides decorated with symbols that represent a phrase translated as "a great miracle happened here" or "a great miracle happened there". During Hanukkah, people, usually children, receive money and exchange gifts.
Since the global 2020 pandemic, the Hanukkah celebration has been a little different from usual, but the meaning remains the same. It has become a symbol going against hatred and anti-Semitism. Hanukkah is a message of light in the darkness and we all have the ability to bring light to the world through unity and tolerance. That's why the Hanukkah festival has such a strong message, especially during this time of Covid19: the light is a symbol against fear or loneliness.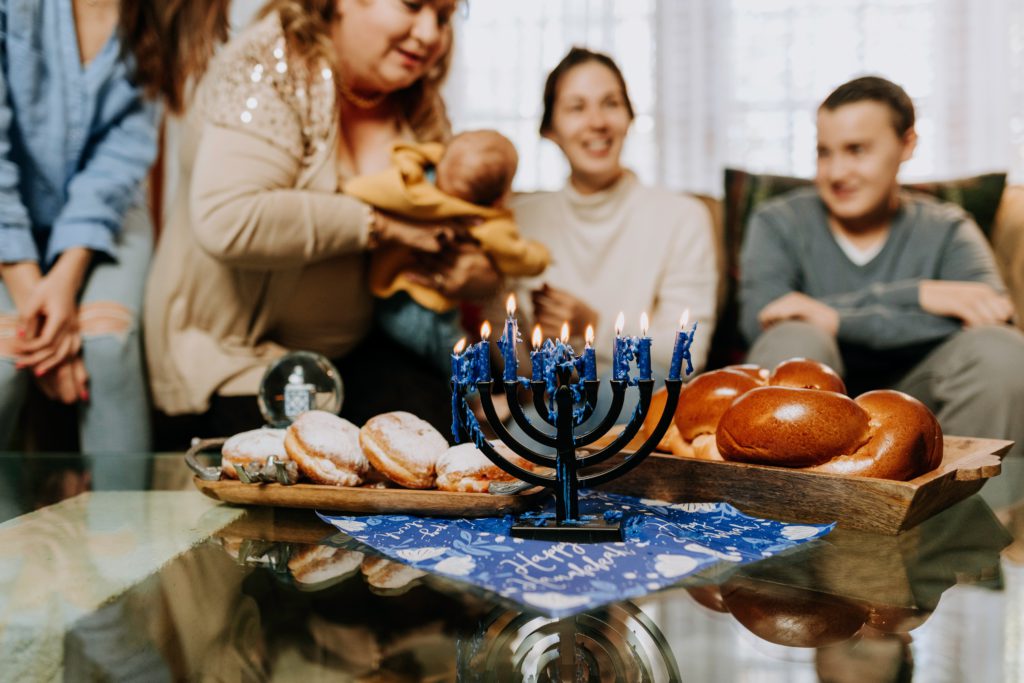 How are you going to celebrate this year? Here are some ideas:
Get the family together. Even with many getting vaccinated, it's no secret that holding big gatherings in most countries, even when it's for a good cause like celebrating Hanukkah, may not be advisable. Thanks to applications like Zoom and Skype you can video call your family wherever they are and still enjoy the festivities.
Light up the Menorah. This is the centerpiece of Hanukkah and lighting it up during this holiday is the most important part.
Don't forget the children! Keep them entertained and part of the fun with the dreidels, which we discussed earlier.
Jewish pastries only, please. The basis of every celebration and to truly complete this 2000-year-old tradition we need the food! Savory latkes, famous challah bread, scrumptious jelly donuts just to name a few. They make up most of the menu for an authentic Hanukkah celebration at home.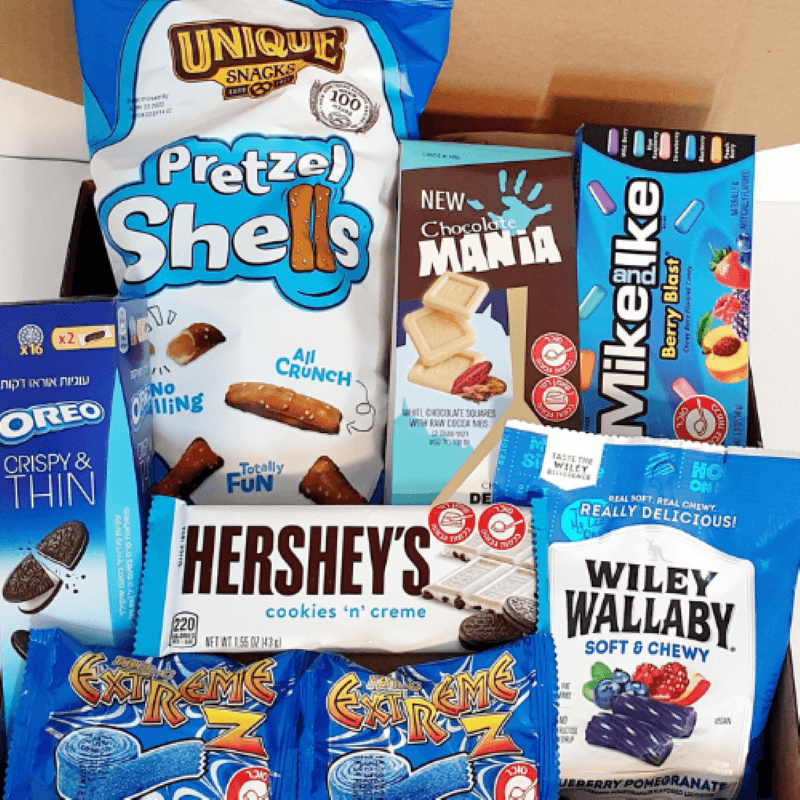 Perhaps you do all of the above, so you may be wondering how can I make this Hanukkah the ultimate year of fun-filled celebrations? The answer is Snackmagic! Whether you order a box to surprise a special friend, dear family member, or get one for you and your own family to enjoy, with us you can take it to the next level!
Celebrate with this Hanukkah gift hamper curated by our local partner in Israel, who has something to share about her own experience living in the Holy Land itself:
"What makes Hanukkah special to me?
In Israel, families traditionally put their Menorahs outside or in a window facing the street, so that it feels like each neighborhood is "lit up". It's very beautiful. Also, at this time of year, you can't walk past a bakery without smelling the delicious jelly-filled donuts called Sufganiot. Because the miracle was with oil, it is tradition to eat oily foods like donuts and latkes (potato pancakes).
How does my family celebrate Hanukkah?
As part of the Hanukkah tradition, parents give gifts to their children. Just like God gave the Jewish people enough oil to last 8 days, we give our children gifts to engage and get excited about the holiday. When my children were younger, we lit the Menorah and sang the traditional songs and said our prayers. The children then would all sit in a row, close their eyes and put out their hands. We would place a small gift in their hands and they had to guess what it was by feeling it. The children looked forward to this all year. It is also customary to play dreidel.
Hanukkah has an important message
Especially at this point in time where it may seem that the world is full of darkness, we are reminded during Hanukkah that we can each help illuminate the world by doing good deeds and caring for one another."
We have great boxes for you to gift all the amazing people in your life. Why not send them a box just because you appreciate them and all that they do? Check out the Israel boxes here!
Hanukkah Sameach! (Happy Hanukkah!)