As Right Networks employees began working from home, they missed the food concessions they once received in their offices
Industry: Cloud Technology
Employees: 350
Takeaways
1. Right Networks was in need of an at-home snack concession to keep their employees fueled up and motivated
2. With a user-friendly experience that makes gifting easy, SnackMagic provides a centralized interface that is simple to manage and seamless to execute on a large scale
3. SnackMagic has integrated into Right Networks' company culture as a unique touchpoint for employees to bond over
How it Began
Right Networks is the market leader in cloud-enabled technology solutions for accounting and tax firms and small businesses. Combining extensive knowledge and experience in accounting and tax application best practices, world-class cloud technologies and US based 24/7 support, Right Networks delivers the most complete accounting solutions in the industry. "We are a cloud hosting company, so basically what that means is we have remote desktop servers, which enables our customers to access their QuickBooks files from almost anywhere. They don't have to worry about their files being lost if anything happens to their computer because everything is hosted in the cloud," said Technical Support Agent, Mindy A.
As their entire workforce of 350 people that once filled multiple offices all over the country was forced to make the shift to work from home, Right Networks was in need of an at-home snack concession to keep their employees fueled up and motivated. "Before the pandemic, we were working in a few offices, but at our main headquarters, we always had lunch served. One of our agents is also a chef, and he and his father, who owns a catering company, would make lunch for us every Monday through Friday. It was amazing, and we had a lot of other perks in the office too. There were always snacks on hand. We had coffee, tea, and sparkling water, which, in particular, was a big thing in our office. Once we started working from home all of that went away."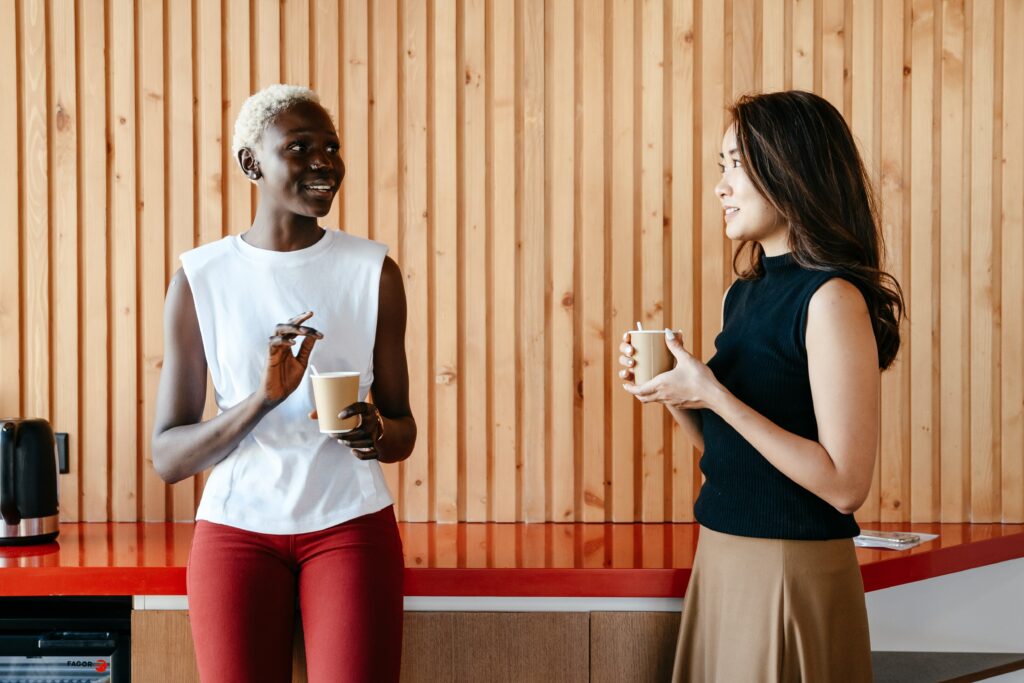 How Right Networks Came to Us
Many organizations have turned to at-home perks alternatives like gift cards or food delivery services, but those models have proven to be unsustainable and provide a lot more problems than solutions. "We tried a food delivery service and it wasn't accessible to all of our agents. It was something that excluded a few people geographically," explained Mindy. With Zoom towns on the rise, not everyone is able to receive the same food delivery services after being scattered around the country, some in remote locations.
Moreover, the price to get food out to employees is limited and the rate of distribution doesn't even come close to the perks experienced in an office.
"The food delivery service also didn't allow for much food to come in. You'd get one or two meals out of it. We researched other options and the idea for snacks was inspired by a response to a survey we sent out to our employees regarding our shift to working from home. We want happy employees! One of the employee's responses was, 'I miss snacks.' That was the only thing they wrote, and I said, 'You know what, there must be delivery services out there,' so between myself and our manager of technical support, Ryan A. we found SnackMagic and it's been phenomenal."
With a user-friendly experience that makes gifting easy, coordinators like Melinda have access to a centralized interface that is simple to manage and seamless to execute on a large scale. SnackMagic integrates into company culture as a unique touchpoint for employees to bond over, "Now I get snacks to people's houses. Impulsive shopping is a nice pick-me-up. We have an internal chat where we talk about what everyone ordered or what they're going to order, or what they're excited about," said Mindy. The customization aspect of receiving SnackMagic is unique–no other snack delivery service is doing this right now, especially at this scale.
As a small start-up, SnackMagic prides itself on immaculate customer service and one-on-one interactions.
"We looked into another snack delivery company and the rep was very flaky. What was attractive about all of you was that Shaunak reached out right away when my manager made the initial discovery and inquiry. He gave us the presentation, showed us how everything worked. When we were talking to the other snack delivery service, it was going to involve them doing all sorts of stuff on their back end trying to customize the boxes, and we looked at some reviews and it wasn't going to be big snacks…it just wasn't sitting right with us."
SnackMagic products are competitively priced with large portions for best customer satisfaction–for the quality and variety of our products, our prices really can't be beat.
Allowing employees to customize their order with products that will be eaten and not thrown to the back of the pantry ensures this is a gift that will actually be used.
"With you guys, it was clear that, first of all, the employee choice was excellent. The fact that they get to go in and customize their box is huge. The responsiveness from the company, any time we speak to any of you, it's very quick, it's thorough, there's knowledge, and I've used the chat many times already within the website. If they don't know an answer, they're not afraid to say, 'Hold on one moment, please let me look into it, or you know what, it's going to take me a little bit, but I'll find out and I'll email you back.'"
Armed with a team of superstar customer service ninjas who can be contacted right on the website, SnackMagic will never leave you in the dark. "We pride ourselves in our company on top notch customer service. Any time someone is speaking with one of our agents on the phone in any capacity, it's extremely important that they're getting top notch services to work with another company. It just makes the whole experience."
The Outcome of The Partnership
The Right Networks team gets SnackMagic as a recurring employee perk, so team members have something special to look forward to every month.
"October was our first month and we just had a new order last Thursday, so the 12th of the month is our SnackMagic day. Every month our employees get to fill up a box of snacks and they're always excited about it. The Snack Wallet overflow is also really nice. They can choose if they want a full box one month or maybe they want to hold back a little bit and get more the next month, so it's fun to see how people use it," explained Mindy.
With the use of our Snack Wallet feature, employees can choose to keep their credit on the website and allow it to rollover every month.
As a fully operational employee benefits program, SnackMagic is the perfect platform to integrate into company culture. "The team is ecstatic! We have a group chat, called SnackMagic Hall. They absolutely love it. They're posting pictures of their shopping carts of what they have on the way, and then as soon as their snacks arrive, posting pictures of the boxes full of snacks. So it's a neat thing. We're all working remotely. Now we have a little united excitement." Now more than ever, organizations need to keep their employees close when everyone is so far apart. For new employees who join the team, this is a great ice breaker for introductions. Sharing SnackMagic tips on the best snacks or cool recipes to make with the snacks generates conversation and excitement.
"As they go through their boxes they're posting and gosh, the Strive jerky, that was like all the rage last month, that's what everyone was talking about, so you can bet my box is full of it this month. They love sharing their favorites and telling people 'try this, get this, or get that.'"
The ease of using SnackMagic on the planners side comes from the Treats Dashboard feature, where planners can have full scope over who has redeemed their boxes, the delivery status of each box, and any Thank You notes that come in from happy snackers. "I just find it to be brilliant that I can keep a spreadsheet of the people that are participating from our company. I copy and paste a list of emails, and then they go right out. It's not a difficult interface to work with at all." All you need to send a SnackMagic box is an email! Planners will find peace in knowing they don't have to scramble for home addresses or making sure employees are satisfied.
"I've worked with some other similar interfaces–like the food delivery company we worked with–and it's not intuitive, it's not easy. If I ever find something that I'm like, 'Oh, I don't know where that function is again,' I can message all of you and you answer me real quick, which is fantastic."
Planners will also have peace of mind knowing they are getting the full bang for their buck.
"A lot of the reviews we read for the other snack delivery companies we looked at sounded almost like you're getting airplane peanuts, but with SnackMagic we're getting big, big things. I order the sunflower seeds, the bag is as big as my head. I couldn't believe the size and the pricing. I looked into the pricing thoroughly before signing on and it's comparable to what's in the store or even less expensive. So that's fantastic."
With competitive prices and large portions, gift recipients can keep their pantries stocked with items that will last for weeks! In such an uncertain time, consumers don't want to hang around in crowded grocery stores casually browsing items.
This aspect of snack discovery is a rare experience these days and SnackMagic brings the excitement back to food shopping. "When we went remote, our employees loved the perks in the office, and we were trying to think of things we could do for them, but I think the thing they liked the most is it's practical," said Mindy.
"It's something exciting because it's unique snacks. It's not something like, 'Oh, I buy this every week at the grocery store, I could get this anywhere.' It's something that if they haven't seen in a lot of cases, with some of their favorites still sprinkled in there, but it's something that they can and will use. They all have to eat, they're all sitting at a desk all day. Who doesn't like getting mail and who doesn't like food? So it's a win."