Check out our Singapore menu for some great gift boxes that are ideal for celebrating National Day. And if you have a team in Singapore that you want to reward, click here to find out more about how to treat your remote team, clients, and pals.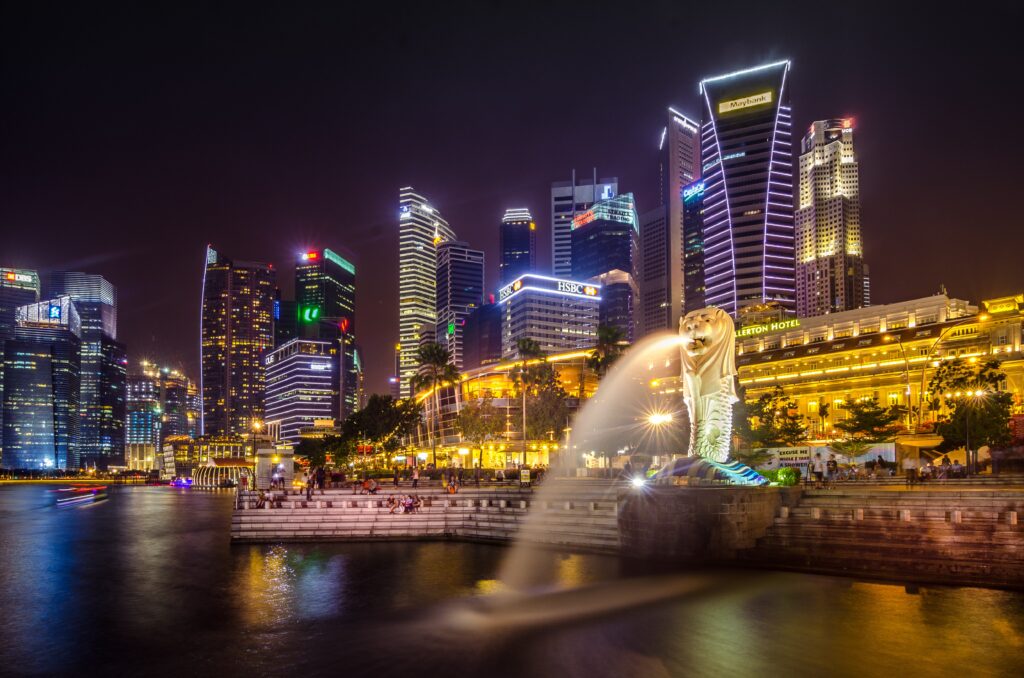 The city of a thousand names
Every year on the 9th of August, the red and white flags fly high as Singaporeans celebrate the founding of their city-state. It is a time for all the peoples of the island to come together and celebrate the strength of their unity.
Whether you know it as The Garden City, The Lion City, or The Little Red Dot, Singapore is a country of many identities. This is reflective of the incredible diversity represented on the small island – in fact, another of its many nicknames is Instant Asia for this very reason.
Founded as the Republic of Singapore in 1965, the island has had a long and storied history, stretching back more than a millennium. From the beginning, the island, originally known as Temasek, was an important nexus in the busy sea trade routes that passed by the southern tip of the Malaysian peninsula. This is why people have lived there for so many years despite the absence of any farmland to sustain a large population.
Singapore – Singapore is derived from the Malay word Singapura, which comes from the Sanskrit words meaning Lion City.
Lion City – A popular belief is that Sang Nila Utama spotted a large beast while hunting in Temasek that was misidentified as a lion.
Temasek – An early recorded name of a settlement on where modern Singapore is located. It refers to an ancient sea town.
Garden City – A vision introduced in 1967 by the Prime Minister at the time, Mr Lee Kuan Yew, to transform Singapore into a city with lush greenery and clean streets.
Today, Singapore continues to be an important economic hub. For companies with an interest in the Asia-Pacific arena, Singapore has become the go-to city. Major companies from all over the world, including IT giants, pharmaceutical companies and industrial goliaths, all choose to make Singapore home to their regional headquarters.
This in turn has led to Singapore being one of the most highly developed countries in the world – it is ranked 11th out of 189 countries on the Human Development Index. The bustling, multicultural metropolis boasts a world-class zoo, parks and premium hotels on top of its economic clout. Perhaps this explains why Singapore is the 5th most visited city in the entire world!
Celebrate like a Singaporean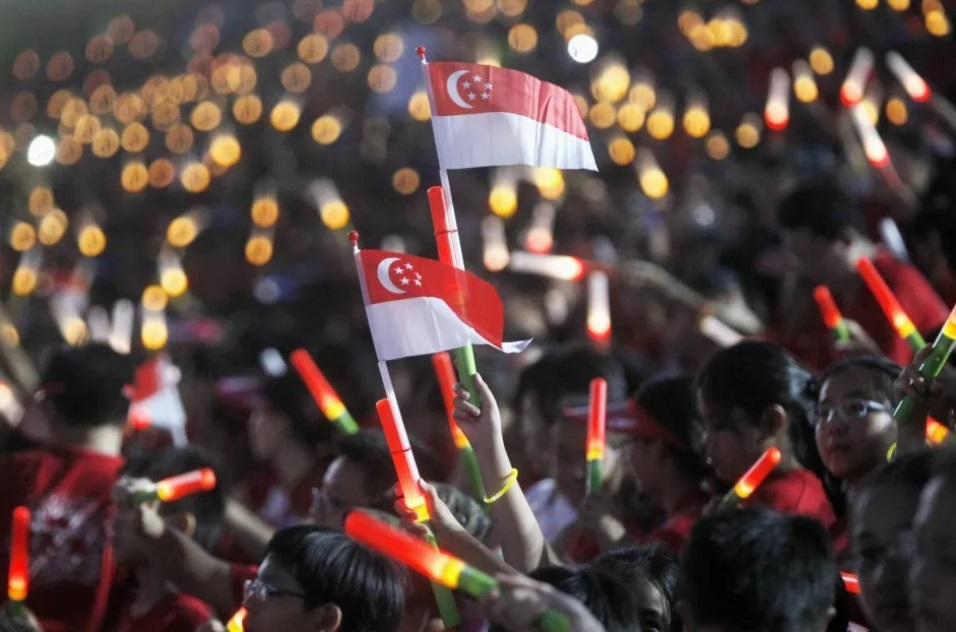 So, you can see that Singaporeans have a lot to celebrate when National Day comes around. But how do they show their love? Arguably, the main event of National Day is the National Day Parade (NDP). This year, after having been scaled back in recent times due to COVID concerns, the parade will be back at full capacity at The Float @ Marina Bay. The theme of this year is "Stronger Together, Majulah (onward)!"
Every year, tens of thousands crowd around the venue of the NDP to see the military, police and other civic organisations parade to live music. Overhead, the Singaporean air force puts on a flyby display to entertain the spectators while everyone enjoys the atmosphere – and the goodies they can find in their official fun packs!
The evening is capped off for many by an awesome display of fireworks over the marina. Every year more and more fireworks are sent whizzing into the sky above Singapore, to flash and bang over an appreciative audience.
Of course, as with any day off, National Day is a great chance to get together with friends and family. Singapore isn't known as the Garden City for nothing, and many people enjoy taking a walk through the beautiful botanical gardens, or in one of the many parks scattered across the island. Take some highly portable, protein-rich snacks and you'll be good to keep trekking all day.
In summer, Singapore can be quite hot and humid. Those who prefer a more moderate environment often stay home and take advantage of the time off to cram in some quality TV time. Whether you want to enjoy the latest and greatest that TV and film have to offer with some friends or by yourself, why not grab some sugar-free chocolates or savoury snacks that celebrate the local flavours of Singapore?
With all the hustle and bustle of an economic powerhouse, it's always a delight to have some time out of the hectic nine-to-five to just relax, refresh and recover. National Day provides the perfect chance to unwind with some close friends, perhaps over a cup or two of hot tea.
Here is what Joseph from SendThinks, one of our local partners in Singapore, likes to do on National Day:
"Typically, on National day, I have been hanging out with friends near the Padang area. That area is great as we get to see the military planes flypast, the military marchpast, and the tanks and vehicles drive past. We also get to see the red lions parachute down and get a great view of the fireworks as well!"
Mabelynn from ChocoElf, another of our partners in the Lion City, prefers to stay at home with her family:
"Before I had children I loved to take a stroll around City Hall and Raffles Place during National Day, as I will pass by some famous Singapore landmarks, and if I'm lucky I might even catch a glimpse of the NDP live. Nowadays I will just buy some food home and stay with my family to catch the National Day Parade live on screen, we will also make it a yearly affair to sing the National Anthem together with everyone else."
So… Singapore flags, NDP songs and the kampung spirit – are you feeling patriotic yet?
Taste of Singapore
As a proudly multicultural country, Singaporean food has been influenced by a plethora of cuisines from the Asia-Pacific region. But even amongst such rich variety, there are some standouts. For example, Chilli Crab and Nasi Lemak were both popular. In fact, it was these flavours that inspired some of our local partners, Kettle Gourmet, to begin producing their popular range of gourmet popcorn.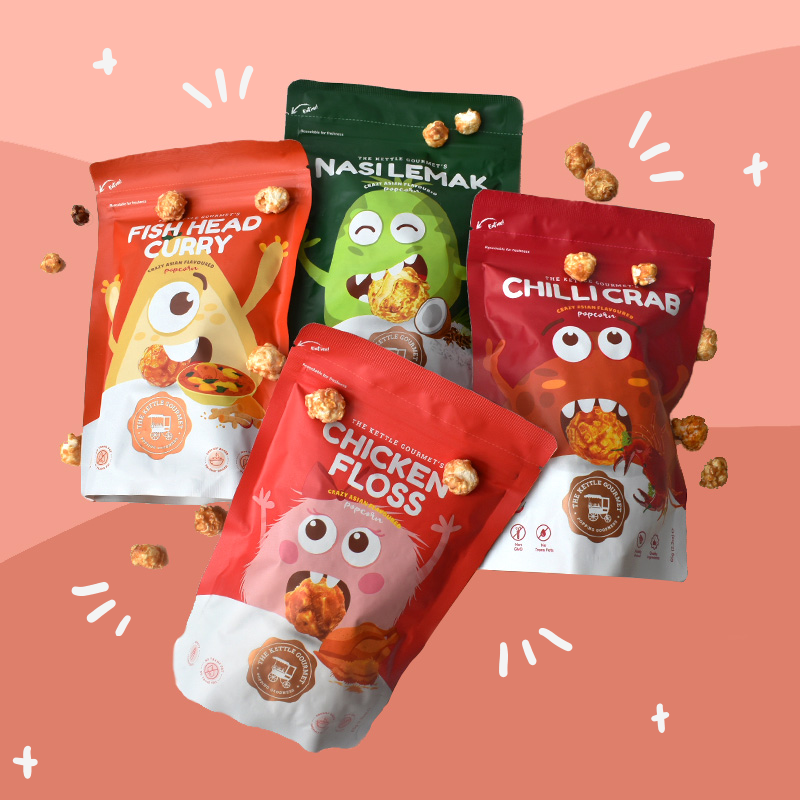 Kaya, a type of coconut jam that is very popular with toast for breakfast is another local favourite.
"One of my favourite flavours in our So Singapore box is the Merlion Kaya." Says Mabelynn. "As I am a big fan of Kaya, this was actually the first flavour I tried when I joined ChocoElf: chocolate and kaya made up such a wonderful match."
Whatever you choose to do – and whatever you choose to snack on while you do it! – don't forget the lesson that Singapore teaches us: that with a little teamwork, a diverse group of people can accomplish amazing things!
Check out our Singapore menu for some great gift boxes that are ideal for celebrating National Day. And if you have a team in Singapore that you want to reward, click here to find out more about how to treat your remote team, clients, and pals.