Meet Connie from Ireland & know her journey of spreading joy – from being a nurse to conceptualizing & fulfilling awesome gift boxes in Ireland – the Land of Saints and Scholars. Her creative gift boxes include Paddy's Day Parade box, a Gamer's Box, the epic BTS Munch Box, and several others...
Being a nurse for 20 years is tough. Life from the local hospital in my hometown in the Philippines to a whole new culture and way of life here in Ireland has been an adventure. While in college, nursing wasn't my first (love). I love art, music, and dancing, but since my cousin graduated as a nurse and in my time (yeah, I am a Gen X), nursing saw a huge boom, my parents convinced me to pursue the course. 4 years later, I could still remember their smiles as I graduated with Honors. Science was my favorite subject and all those medical explorations and experiences fascinated me. Not only that, the feeling of tending to people and making them feel better was something I strived for. After everything, the look of comfort on their faces was all worth it!
So, what brings me to Ireland? Here's the 2nd part of my story. I got a job in the local hospital straight after college, got married, and had kids. Yeah, just like that one after the other. Then there came a time when most of my colleagues were applying for jobs abroad. So, I said to myself, why not give it a try too? Who knows, I might get lucky! Well, luck was on my side and after several stages, I was flying to Ireland in 2001. It was heartbreaking to leave my family behind but at the same time opportunity knocked at my door. Who said I would be homesick for so long. I brought them here after a year and we made it our second home ever since.
Now after 13 years of juggling time with long days and nights and quality hours with the kids, I decided to leave my nursing career for good when our youngest daughter entered our lives in 2015. Didn't regret it one bit, as I wanted to raise her as a full-time mom from Day 1. Sure, my husband still works so all I need to do is focus on the kids and all the things I am passionate about. Dancing is one of them, but that's another story to tell for another day. In my circle of friends, I enjoyed having the role of a planner. From birthdays to get-togethers, to outdoor adventures. I love to plan, create and organize stuff. That's what got me into doing a course in Event Management.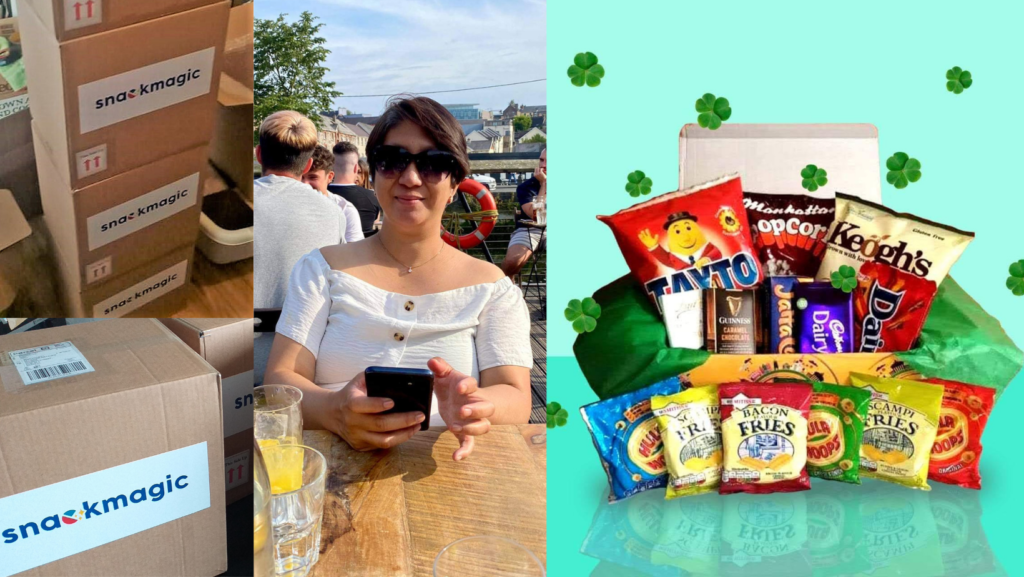 And through all this adventure, comes SnackMagic. What better way to showcase your ideas than creating boxes that cater to all walks of life? It all began with the Irish Blast box, which was my very first box. As it was nearing St. Patrick's Day when I became a part of the international team for Ireland and sure enough, we were in the middle of a global pandemic with lockdown in place, making a box full of Irish treats will remind people of the grand Paddy's Day parade was very timely. First, it was tiring and baffling. Ordering supplies, buying the products, packaging and shipping the orders, then doing the invoices on your own is all new to me. At one point, I was still doing tasks till midnight. Call it dedication but I won't let myself go to sleep without completing what I started. But as I went along, more boxes were created and my family helped one way or another, the experience itself became endearing.
I have already designed 5 boxes since I started in February 2021 but knowing that those creations would end up at someone's door or workplace, bringing that aura of happiness and content when opening them, not only gives me the exact amount of joy but also a sense of accomplishment when I see my SnackMagic box has been delivered.
If the story sounds interesting and you are keen to explore the world of being a SnackMagic Ambassador in your own country, please fill out your application here. The only criteria being the below:
Do you love snacks & gifting?
Are you passionate about curating gifts?
Are you looking for extra income while doing what you love?