Read on to learn how our pal Leo began his SnackMagic journey…
"You want to start tomorrow?" – Shaunak (CEO of SnackMagic)
"Yes! Let's do it." – Me
This conversation happened right after a 30 mins interview. Funny enough, I was the one interviewing Shaunak.
Similar to many folks at SnackMagic, I had quite an unconventional journey joining the team. When I graduated from the University of Michigan (go blue!) this past May, I had everything planned out in my mind – joining a prestigious management consulting firm for a couple of years, exiting to a growth-stage startup, and then starting something of my own. As an immigrant on an F1 student visa, I was on track to make my parents proud.
Nonetheless, this plan quickly changed after that conversation with Shaunak.
How I landed the job at SnackMagic
At the start of the pandemic, I started writing an email newsletter called Consumer Startups – I interview successful early-stage founders and write about their journey building and growing a company. I found SnackMagic through a series of YouTube videos about how SnackMagic pivoted from a lunch delivery service to a corporate gifting platform and grew from 0 to $20M in ARR during the global pandemic. As an aspiring entrepreneur, I found those videos to be incredibly insightful and decided to reach out to Shaunak to learn more.
Also started as an immigrant on an F1 Visa, Shaunak has faced many ups and downs in his entrepreneurial journey (learn more about it here). It was clear to me, just 15 mins into the conversation, Shaunak is a force of nature, and it would be an incredible opportunity to work with him.
My experience thus far
Shaunak took a chance on me despite my lack of experience as a fresh college grad. One interesting thing about SnackMagic is the 3-month internship/probationary period that everyone goes through regardless of the experience level or the position. It is a trial period during which the new hire explores the culture fit and crafts their own job position at SnackMagic.
I joined as a member of the Growth Team but I got to work on many parts of the business to find my fit. Besides working on experiments and campaigns that could drive top-line growth, I also got to work on several cross-functional projects. During the first week, I helped build the internal website aka SnackMagic HQ to provide a centralized knowledge hub for the company. I also worked on the supply chain side, sourcing our Work and Play products from different vendors. I often joke to my friends that working at SnackMagic is like attending a startup boot camp – you can initiate new projects and have total agency in whatever you choose to work on, with guidance and support from the team.
The SnackMagic difference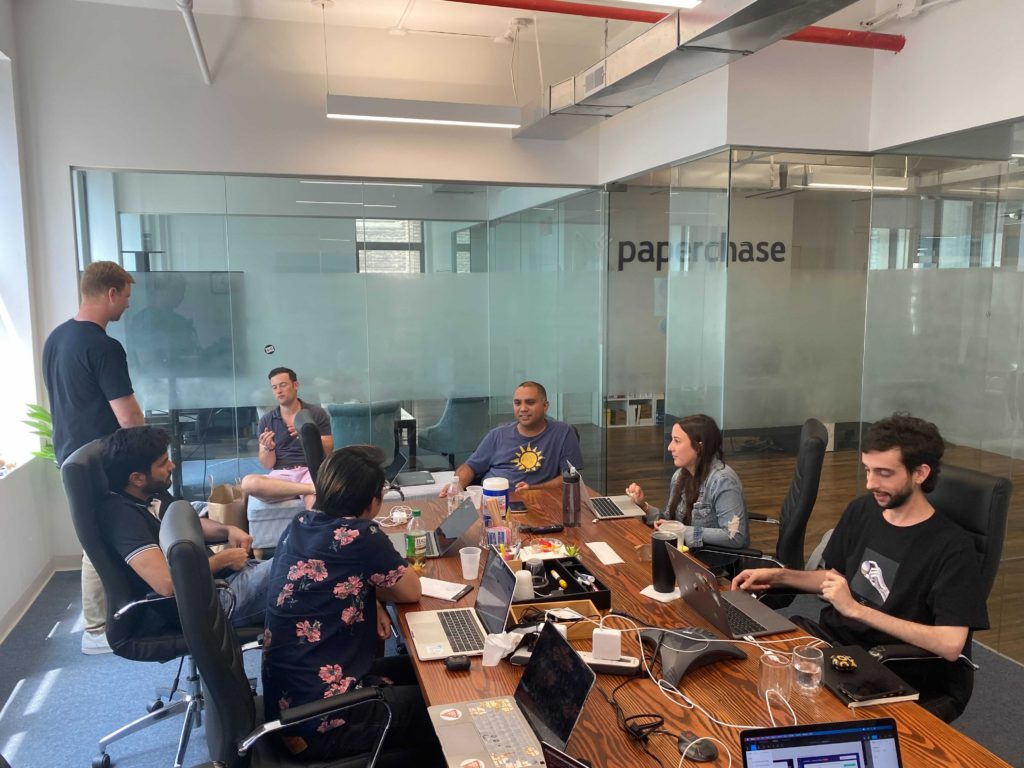 As a distributed startup with people from all over the world, SnackMagic has its own quirks. We are unapologetically non-normal. I quickly learned that during my first month.
For example, we don't have strict processes like most companies, but we do follow principles.
We are anti-Corporate America. Here are a few examples:
—
Corporate America: Work in the office. 9:00 – 5:00pm.
SnackMagic way: Work from anywhere, whenever.
Corporate America: Let me optimize the funnel by optimizing each step.
SnackMagic way: The best way to optimize a funnel is to remove steps (not to optimize each step).
Corporate America: We need to hire internally so we have more control.
SnackMagic way: Who cares if someone is internal or "external". What matters is they are the best and are aligned with the business. We work with several agencies and consultants all the time. Working with experts expedites learning.
Corporate America: We need managers to manage sh#t.
SnackMagic way: Everyone manages themselves. We need coaches, mentors, and leaders.
—
These principles define our culture. I encourage anyone reading this blog to attend our Friday meeting to experience it. Email me at Leo@snackmagic.com, and I will add you to the calendar invite.
Some unsolicited advice from Leo
#1 – Take initiatives
You will learn a ton working at a fast-growing startup like SnackMagic, but it is certainly not for everyone. You will need to take a lot of initiatives because there won't be a lot of hand-holding. If you are ready for the challenge, we are hiring! Make sure to check out our job postings here.
#2 – Pace yourself
Working at a fast-growing startup can be very overwhelming. It is easy to get burned out if you don't pace yourself. This happened to me during my second month when I was working 70+ hours a week trying to do a lot of everything. It is important to set your own boundaries and identify activities outside of work that would make you feel rejuvenated (it's boxing for me!).
#3 – Ownership mindset
Granted, you might not be the founder of the company, but it is still important to develop an ownership mindset. Everyone at the company is working towards the same mission no matter their title. Everyone can make a meaningful difference.
Conclusion
Three months later, I am now officially a full-time member of the SnackMagic family. In the next 3 months, I will work on product analytics and lead the go-to-market strategy of a new product we just launched called Cardboard Vending Machine. It's already been a crazy ride, and I cannot wait for this next chapter 🚀. 
Written by Leo Luo, Growth Team