"I've always had ambitious dreams that I would one day run a successful business and thanks to the team at SnackMagic, I now feel like that's actually starting to happen! I'm a 25-year-old from New Zealand and I'm always seeking out new opportunities that could help bring my goals and dreams to life someday." – Jade, New Zealand
Here is the story as told by Jade, one of our many dedicated and creative curators!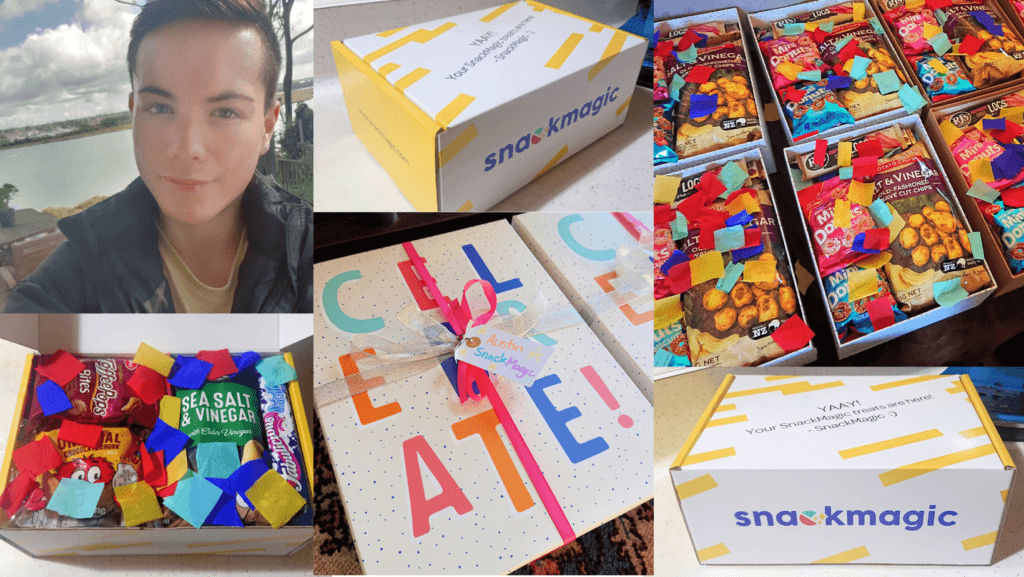 When I first applied to be an ambassador for SnackMagic, I wasn't fully aware of all the time, planning, and organization this role would require but once I got past, what initially seemed daunting and a bit of a confusing setup, I quickly realized this was an opportunity to develop my own set of business skills and I've had so much fun along the way!
To start with a thought and then see your ideas transform into an experience is a truly amazing feeling!
After spending some time designing three well-thought-out box curations, it wasn't long before dozens of orders started pouring in and the Shopify bell on my phone was ringing like crazy! It was the best feeling ever and all three of my creations were selling like hotcakes! I knew these boxes were going to be a hit so let me share with you how I came up with these ideas and why I love being part of the SnackMagic journey and team.
Born and raised in New Zealand, I'm proud to be a Kiwi because when Kiwi's set out to do a job. We make sure that it's our best work and that's something that I see shine throughout all of my creations. So when I first started two months ago and found out that I could ship to my neighboring country Australia, I knew right away that my first box – 100% Kiwi Made was not only going to be super fun but also an awesome treat for our Aussie friends' next door. The idea of curating a gift box filled with local homegrown tasty snacks had me super excited and I couldn't wait to share this with the world!
Griffin's Caramel Toffee Pops… Whittaker's Peanut Slab… Cookie Time Chocolate Chunk Cookies! Mmmmmmm… My mouth started to water as I thought of all the snacks I love and have made Kiwi's smile for decades. I knew customers in New Zealand and Australia were in for a real treat with delicious and colorful gift boxes! I continued brainstorming on other ideas too…
I know that as time goes by, people make choices of going healthy & for their well-being. Seeing that as a gap in the offering on the menu & catching on the trend, I introduced my 2nd box filled with natural snacks and almost 0 additives. This box didn't have to be boring I was thinking. I ended up walking out of the supermarket with a basket oozing with irresistible healthy snacks – gently baked mangoes, almond & mint cacao balls, crispy apple chips, a deluxe roasted nutty mix and lots more!
I love to keep my own snacking simple and natural so I knew exactly what the people wanted in this box.
Once these two curations were set up and ready to go, it was time to come up with my last idea before going live and I decided that it was going to be a non-food gift box since it was an option that I could go for to add variety to SnackMagic's menu. It sounded like the perfect idea for my last gift box because my 3 creations together would appeal to everyone that would be using SnackMagic. I had an indulgent New Zealand-made party box that I was proud of, a healthy natural box for the people who like to eat simple, and a non-food box for the people who have their own snacks that they prefer to eat!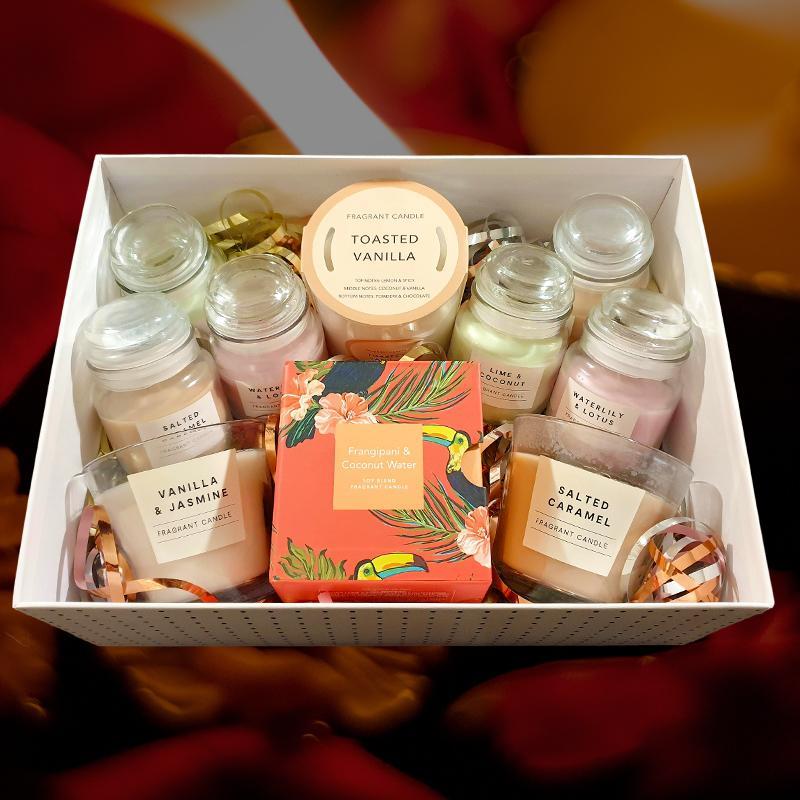 I was having a really fun time with all the creative thinking and research I had to do and during an exciting day out window shopping for my last idea, I came across a large shelf filled with rows of scented candles. There were so many tasty options including salted caramel, toasted vanilla, lime, coconut, and sweet apple! I took a quick sniff from a jar of salted caramel and it smelt just like caramel toffee pops!
If everyone loves snacking on caramel toffee pops then they're surely going to love smelling the taste of toffee pops too!
My ideas were complete and as I grabbed the jar of salted caramel candles along with a bunch of others, I quickly made it home to take some fun and exciting photos and anticipate the launch of my new creations!
I've always had a passion for producing work that is beautiful, professional, vibrant, and artistic, and by having the freedom to create my own stunning gift boxes for SnackMagic, I've been able to explore my passions and ideas freely while also learning and improving important practical business skills such as budget planning, stock management, research analytics and marketing of my own materials.
Working with SnackMagic has been the most fun and challenging work experience I've had yet and I keep on improving my creations and business model every single day. Now that I'm managing orders twice as fast compared to when I started, I'm able to spend this extra time working on new ideas while I continue to send out beautiful creations to the people that love what I create. Thanks a heap, SnackMagic! 👋