Getting friends & family to join SnackMagic & great tips for newbies.
Hi! You can call me Nastita. I'm from Indonesia and right now I live in the beautiful French Alps in Haute Savoie. I have been working with SnackMagic since early 2021. I was already running my own e-commerce in ethnic groceries and when I found out about the opportunity to become a curator of gifts with SnackMagic, I immediately said "Yes!" and thought, this is a great opportunity to expand my wings a little further.
I'm also a mother of two. A long time ago I read this article that says nurturing a business is the same as nurturing a child, you have no idea what you're doing, you just do it. Moms all over the world are making it happen, and they're doing a great job of it! From that moment on I knew I wanted to be like one of those moms, I just didn't know when. To be honest, my own shop was created out of boredom and it magically worked. Now with my proposed boxes such as the Best of France and Sweet & Kawaii which can be purchased through SnackMagic, I can definitely say they bring me significant profits.
Many asked how I could run several businesses while taking care of my 2 small kids. They don't realize that it didn't happen overnight, but rather being a mother and a businesswoman doesn't need to be two separate things. I think the most important thing is to set priorities, find your pace, and SnackMagic is a great platform that offers creativity and flexibility, allowing me to be a mom as my first priority and then a business owner second.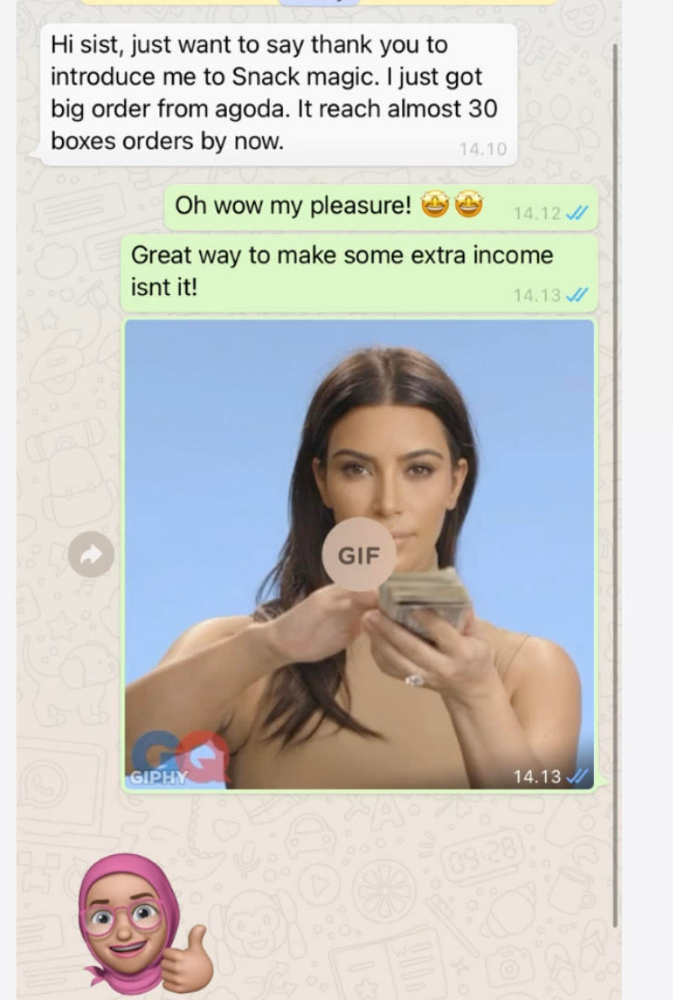 I still remember It was 6 am in the morning when I checked my phone and I saw a Whatsapp message from the SnackMagic team that there is a great demand in Indonesia and they needed my help to find local ambassadors. Even though all the work is done remotely, via emails and WhatsApp, the company can be trusted wholeheartedly and all I see so far is how it keeps growing to be even more successful. Plus in this difficult era of the virus-that-must-not-be-named, there should be no hesitation whatsoever to connect SnackMagic with the right people who financially need the extra boost. I turned to social media and group chats to see if anyone was interested and by 10 am we already scheduled their zoom interview! Yes, this summer my family and my friends joined Snackmagic and they've been loving it. Yay!
It's actually interesting and I love it that the SnackMagic team involves me in the entire experience… whether it's the theme, the look of the packaging, asking advice and ideas what might work in the country and whatnot. Seeing them getting excited with the orders flowing in for me and then the panic that comes with it, being a gift-box curator can be incredibly challenging, but you can always rely on their support! Like any job, however, being a curator of gift boxes requires your time and your determination from creating, budgeting, to fulfilling orders to making invoices – all done by yourself and I admit sometimes it can get a little bit much. I have gained a lot of experience working as a curator, which I would love to share with you, so if you're thinking of joining the team, here are some tips to help prepare you for this awesome journey:
Something fun, creative, and practical. The idea of making a shopping list of things to give someone you don't know sounds daunting. For me, the goal is to have items that clients don't find in their local market. You can also do research beforehand of whom you can partner with and do popular and generic items such as chocolates, country's specialties, beauty kits, make-up products, toys for children, cookies, favorite snacks, beverages, etc. Don't forget to add your personal touch to it. My Best of France box, for example, comes with an Eiffel tower keyring.
Have a prototype. Looking at the majority of my order notes, I draw conclusions that these boxes are meant to strengthen relationships, make employees/partners/friends feel special and appreciated. This is why I like to have a prototype or some sort of standard of how the box should be received. It also helps me to make the right decisions on the correct size of the packaging before purchasing large quantities; whether you need bubble wrap, confetti papers, and the weight to determine the final shipping cost.
Pre-order the essentials! I can't stress this enough. I received my first SnackMagic order within the first hour and 17 by the end of the week! And that's only one theme box. Have the essentials ready, especially the packaging, branding, or even stock your products at home if they have a good shelf life. Trust me, it will make the job so much easier.
Shipping strategy. Ahhh… I remember the days where I carried the boxes in a large IKEA bag, pushing a stroller with my right hand, and holding my toddler with my left hand, walking to the post office about to send the orders all out. But now, I found a way to do everything online and have the courier company pick up the orders. Major cities will have this service I'm sure, especially during this pandemic where contactless services are just booming. This will be also useful if you have a full-time job and can curate gift boxes for extra income.
Join forces with your family and friends! If you can't do it all, get your family members or friends to do it with you. Understand each other's natures, strengths, and weaknesses, then divide work from there. My mother and my sister-in-law, for example, teamed up together to work along with SnackMagic. My sister-in-law, who has a full-time job (and also 2 kids!) does all the administration work while my mom (now retired) takes care of the operations since she is at home.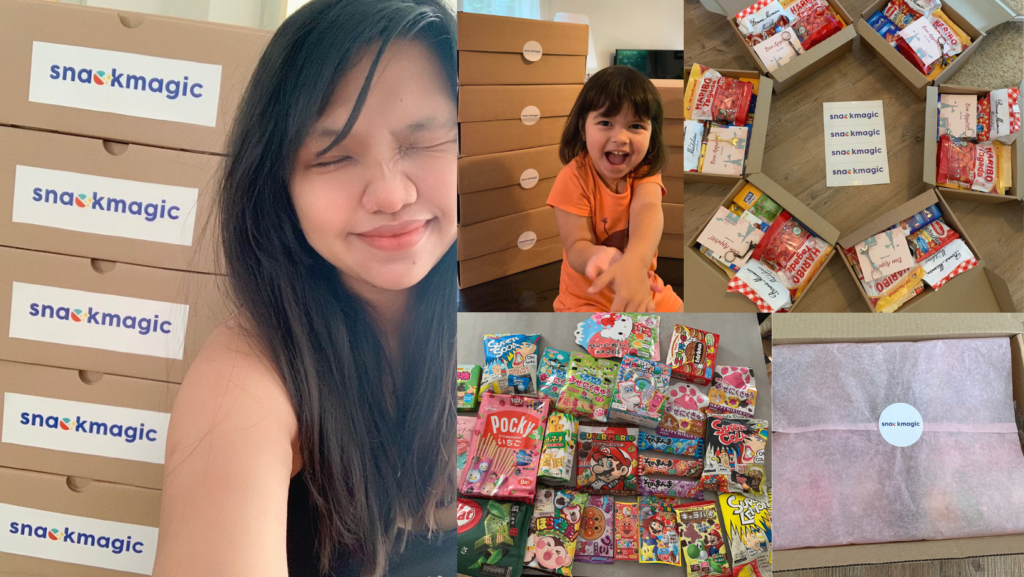 Working with the closest people in your life is a real privilege and as a gift box curator, you have a big part in spreading joy and love all around the world. Make it your goal to be a part of something great, I guarantee you will not look back!