Hi! My name is Ranita Uppal, the owner of Turtle Box India. Turtle Box was born from the union of my love for food and travel. Healthy, handmade & world-traveled flavors are what have kept us motivated for 5 years.
Having traveled the world with my job at McKinsey and then a consulting start-up, I was busy bringing up our two boys in New Delhi when there was this urge to do something new – and what could be more exciting than combining travel experiences with food?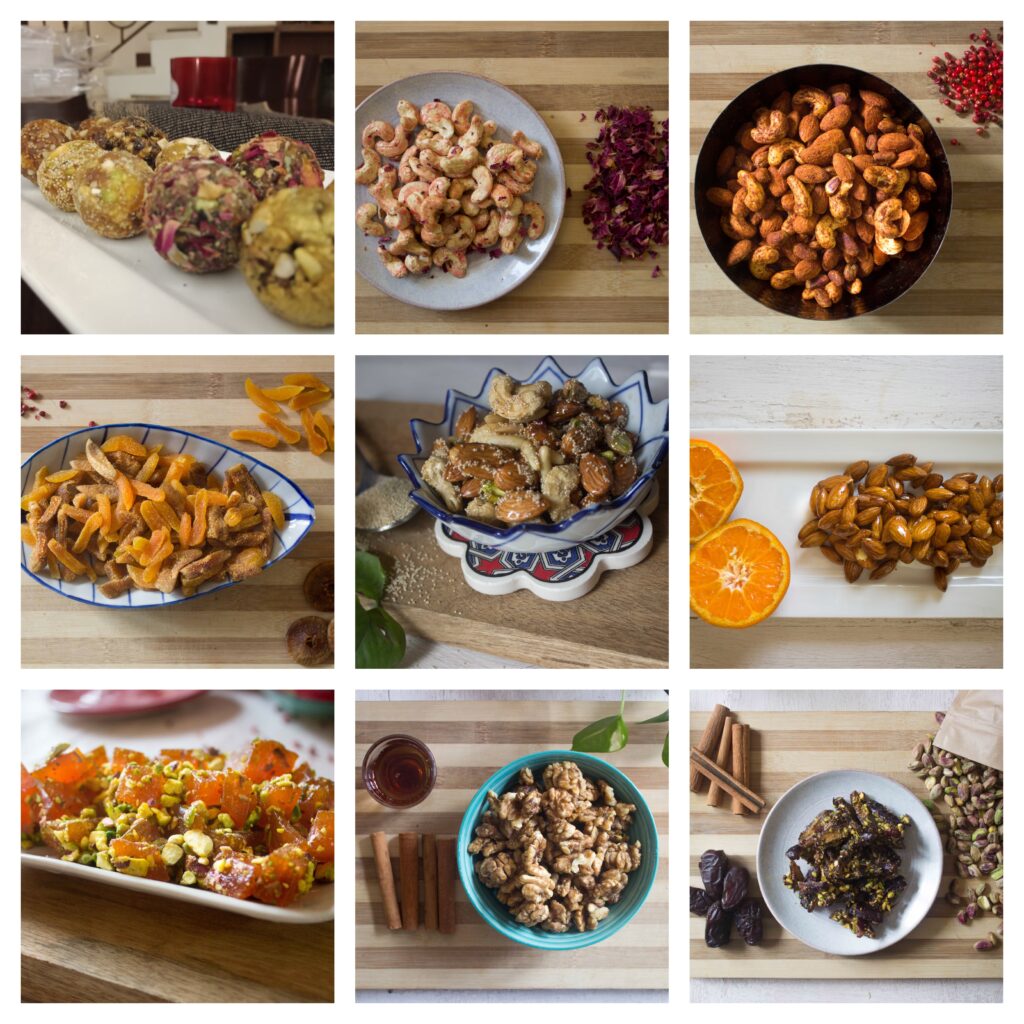 Being a Bengali married into a Punjabi family brought a relishing fusion of two cultures and food. Today, experimenting with new recipes for the same old menu is almost a daily affair in our kitchen.
One sleepless night before Diwali, when the family was trying to decide what to gift friends for Diwali and didn't want to get stuck with the usual mithai, chocolates and nuts. At the same time we wanted to keep it clean and healthy and were certain that it shouldn't have any refined sugar, preservatives, artificial flavoring or color. I suddenly thought of Turkish sweets, and immediately wanted to experiment. Poppy seeds came to mind, as did mixed nuts in honey – and just like that the first flavor was born. It became a super hit amongst family and friends. And the experiments continued in our quest to curate new flavors to satiate our well-traveled palate. And just like that Turtle Box was born!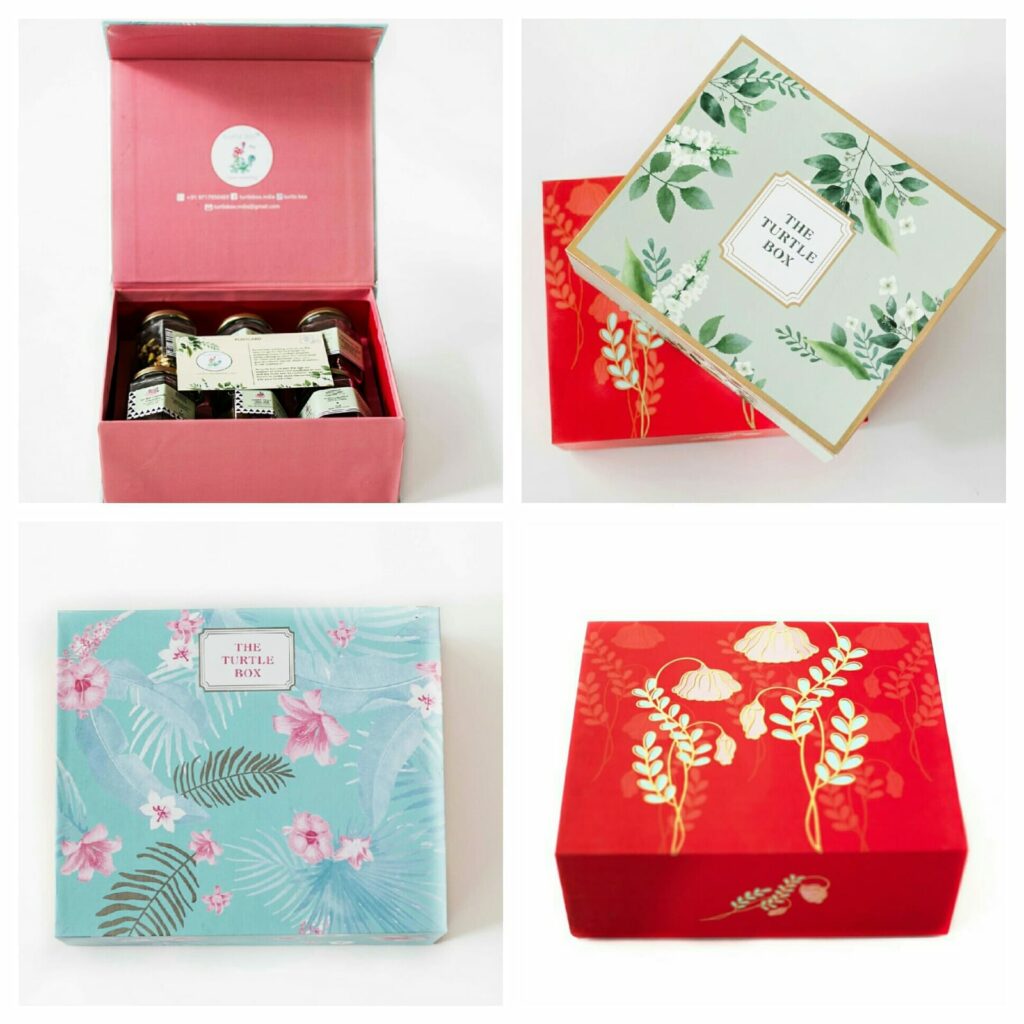 My husband who is a Chartered accountant by qualification, a consultant by profession, and a foodie by passion has been the partner in crime in cooking up these eclectic flavors. Some flavors are outrightly dismissed while some are altered before both of us agree on a flavor and it gets into the menu.
On one of my several trips across the globe, I picked up a small glass turtle as a souvenir from Murano, Italy after being mesmerized by its glass blowers. It marked the beginning of my turtle collections without realizing that this love for turtles would give a name to this new venture. Turtle Box somehow felt right when it was time to name the newborn.
When I started 5+ years back, I even turned my 65-year-old mother-in-law into a production manager at Turtle Box for the first few years when volumes were still manageable, because it's never too late to start.
What started by accident thanks to a memory sparked by my travels across 30 countries transformed into a passion and eventually a full-fledged business – it was serendipity!
Here are some anecdotes on how some of our popular flavors were conceived.
Mixed nuts in honey and poppy seeds
As a Bengali, poppy seeds were always a big part of our cuisine, but it was only on a trip to Istanbul that I had the idea of combining sweets with poppy seeds. How do you make something sweet, add poppy seeds and still keep it healthy? A random experiment of mixing all the good nuts with some thick Himalayan honey and poppy seeds did the trick. This was Turtle Box's first flavor which went out as Diwali gifts to friends and family. The stickers obviously just had the flavor name and nothing else. We soon started getting calls from friends and family asking where we picked it up from… and that's how Turtle Box was born. The rest as they say… is history.
Maple glazed walnuts
When we finally thought of a name and had flavor stickers printed with a phone number, we needed at least one more flavor. Right after Diwali, a friend who was visiting from Canada gave us some organic maple syrup…we can't remember if we used any on waffles, but we did spend a lot of time in the kitchen experimenting until we got maple-glazed walnuts we were satisfied with. And of course, our poor friend had to ship us several bottles from Canada after that!
Dates with pista and cardamom
If you have traveled to the Middle East, you will know where this flavor gets its inspiration from! Having a husband who spends a lot of time traveling to the Middle East thanks to his consulting company, it's no secret that he had something to do with it. This has continued to be one of our best sellers!
Saffron infused aampapad with pista
Growing up with tomato chutney was one of the simple pleasures of childhood, and aampapad just made it even more amazing. A few YouTube videos later, we realized it wasn't going to be easy. But we were able to find a factory down south that manufactured these hygienically and started ordering from them.
This is one of our personal favorites. The strands of saffron on the aampapad make it enticing and the broken pista gives a wonderful break to the smooth texture and sweetness of the aampapad. This flavor is definitely dedicated to all the awesome moms out there!
Pink peppercorn paprika mixed nuts
It's hard to forget the taste of a Lindt Pink Peppercorn Excellence Bar – the combination of dark chocolate and pink peppercorns is something else.
We ordered pink peppercorns and tried different combinations – we almost didn't go ahead with this one, but thanks to a client who insisted on doing something savory for her grandson's first birthday, we were able to experiment a bit further. Our first savory flavor was born: a heady mix of pink peppercorn, paprika, lemon juice and apple cider vinegar.
When should you remember us?
They remembered us, and you should too!
On a trip to India, Gita came across a Turtle Box jar at a friend's Diwali party, she loved it so much that she took a photo and gave us a call four months later. Very soon we were shipping hampers for her daughter's wedding in Singapore. The traditional mix of mithai and nuts never go out of style.
A friend's wife stumbled upon Turtle Box on Facebook and messaged asking if we could do some return favors for her baby shower. When she found out she knew us, she was surprised. Since then, we have helped with several baby showers, baby announcements and first birthdays.
When we set up a small table at the Coca-Cola Gurgaon office for an internal RakhiMela festival, all our jars sold out like hotcakes. We ended up doing more than 750 Diwali hampers for Coca-Cola which set the ball rolling for corporate orders.
When a client came for a tasting to decide on giveaways for her sister's wedding, her 3-year-old took to a couple of flavors and she has been a regular in ordering these healthy sugar-free delights as her family's snacking option and often to take care of their post-meal dessert cravings!
Pretty soon we expanded to engagements, weddings, destination weddings, anniversaries, housewarmings; milestone birthdays, healthy snacking…and we are sure there are many more firsts to come!
When the chance came to partner with SnackMagic, it just felt like a marriage made in heaven. What could be better than snacking? Of course, healthy delicious snacking! SnackMagic and Turtle Box fit in like a hand in a glove. Be it gourmet gifting or healthy snacking Turtle Box is happy to provide several specially curated options to SnackMagic clients.