March has arrived and with it, winter begins to loosen its grip on the northern hemisphere. It is a cause for joy in the hearts of many who live in cooler countries. But remarkably, the same thing is happening in Thailand. But not because of warming weather – because April brings Songkran!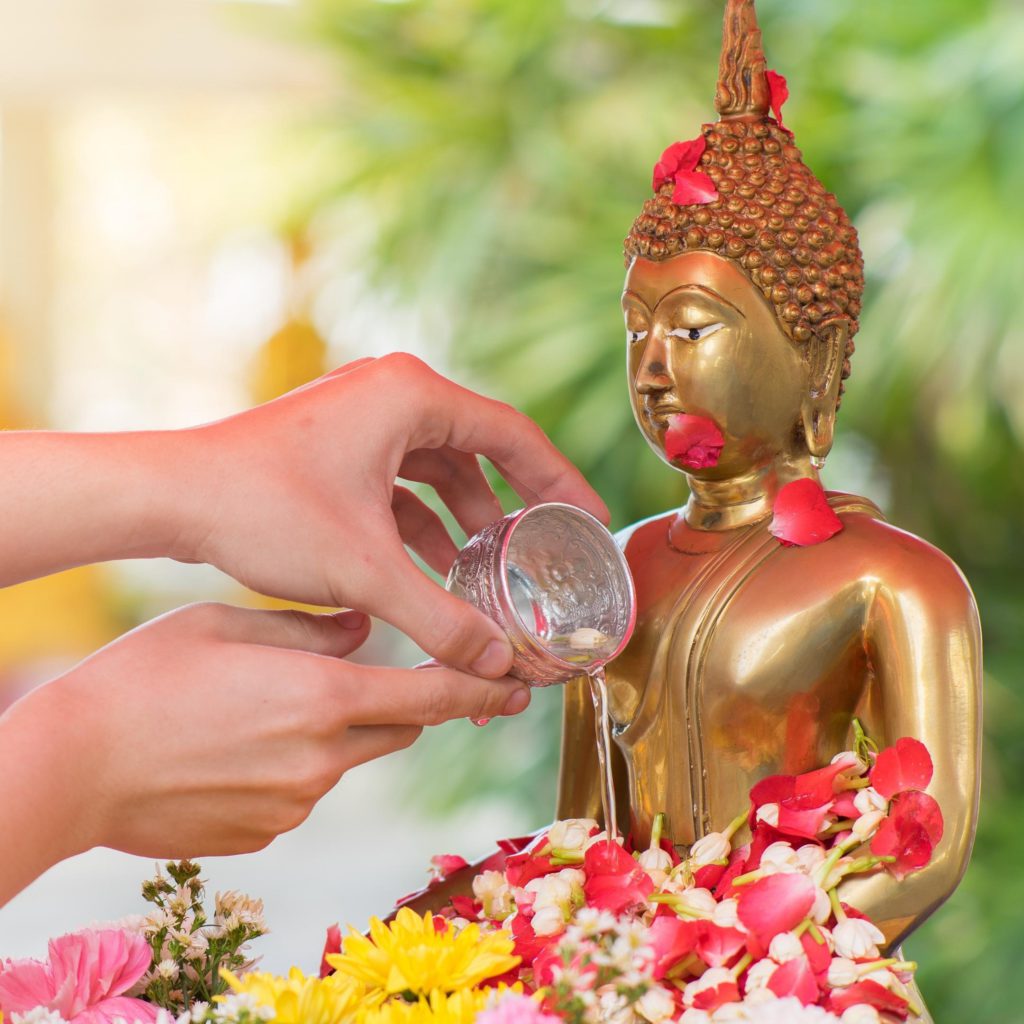 Songkran is the Thai New Year's national holiday and falls annually on the 13th of April. However, the joyful people of Thailand don't limit their celebrations to one day, and this year the official holiday runs from the thirteenth through to the fifteenth.
At the heart of Songkran's origin lies a classic tale of the testing of mortal man by the gods. A rich man, taunted by his drunken neighbor for having no children begged the gods of the sun and moon for a child. His pleas fell on deaf ears until one day he lay a gift of rice for the local spirit who lived in a banyan tree. The spirit petitioned the god Indra on the rich man's behalf and he received a son.
This son, born at the will of Indra, grew into a very clever and diligent man. But another god, Kapila Brahma, decided to test the boy with a riddle. The boy was at a loss until he overheard two eagles talking and finally answered Kapila Brahma's question. Having lost, Kapila Brahma cut off his own head and now, every year at the same time, one of his children carries his head on a phan tray around mystical Mt Meru.
For many Thais, this is a fantastic chance to come together as a family, and reconnect with those whom they may not have seen for some time. People often cook a big feast and eat together, sharing stories, hopes, and dreams for the New Year, as well as paying respect to the family elders and thanking them for their love and support over the previous year.
According to Marike from Pure Thai Naturals, one of our partners in Thailand:
"Traditionally families travel back to their village of origin, since the most important part of the festival is Dam Hua, seeking forgiveness from parents and elders for the mistakes of the year past, blessing bands for good luck, rituals inviting luck and prosperity, honoring the heads of the family with gifts, traditional offerings, new clothes and traditional foods".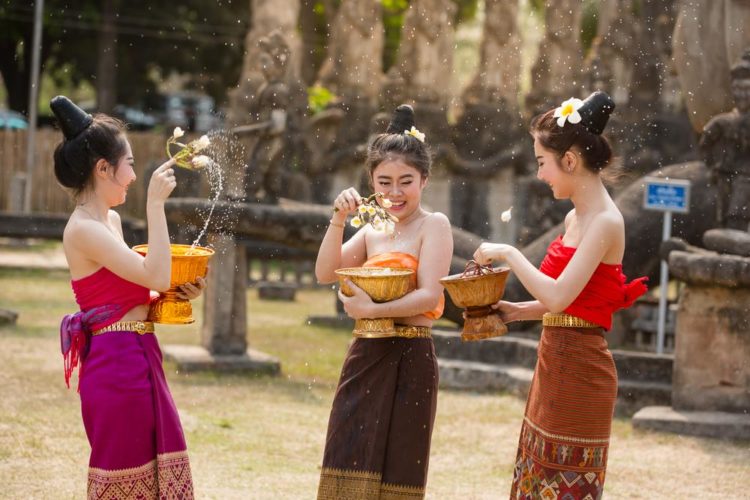 Another Songkran tradition is to pour water over a statue of Buddha, symbolizing the washing away of one's past sins and misfortune. More recently, this ritual act has been taken by young Thais and turned into a fun-filled event that fills the air with laughter – and, of course, lots and lots of water!
Another SnackMagic partner, Kristian from Siamaya Chocolate had this to say:
"Because April is the hottest month of the year, Thais have begun to splash water to keep cool. Thai people used to only play with water in temples when they went to religious ceremonies. However, this culture has recently changed to be more viral and connect with the new generation because they spend their time playing with water rather than going to temples."
He also had this great advice for those looking forward to making a splash this year:
"What we always need more of, because of the heat, are drinks that can be served chilled. Bring a drink and a water gun with you when you go outside, have fun, and try not to get too wet. Oh, and make sure your phone is well hidden from the water!"
You may not be Thai, but fortune passes everywhere and there's never a bad time to make a fresh start. So let's join in with our Thai friends' example, Kristian and Nitiwat, and draw together to give thanks to the best of the past and reset for a brighter future.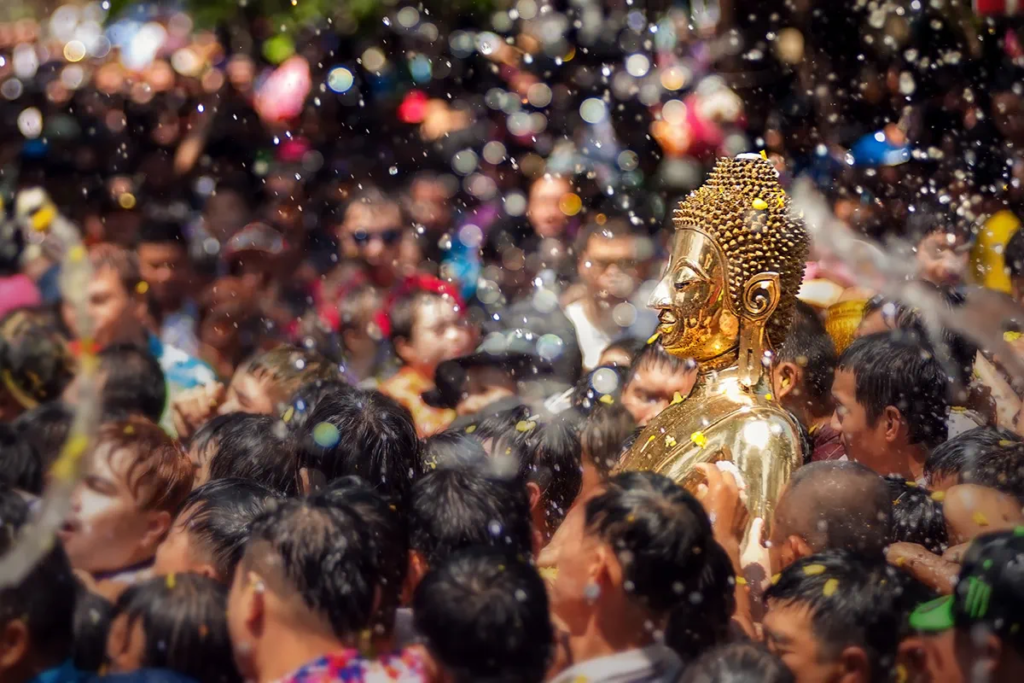 How can I celebrate Songkran?
The Thai New Year is a time for people to get together and strengthen their bonds with the people dearest to them. And as we have all learnt over the past few years of pandemic-enforced separation, this has never been more important!
Make the most of the new ways we have of gathering. Perhaps the most painful part of this pandemic for many has been the bans on public get-togethers. But as we have had to navigate our way through this time, solutions to this problem have been found and now more and more people are enjoying video calls to share time together.
Clean yourself up! A big part of Songkran is the idea of cleansing yourself of the detritus of the past year in preparation for better things. Sounds like a perfect excuse to pamper yourself with some home spa essentials to us!
Treat yourself and your family. Don't forget the whole family! Remember, for many Thais Songkran is about family and feasting; from beloved elders to energetic kids, make sure you have something for everyone.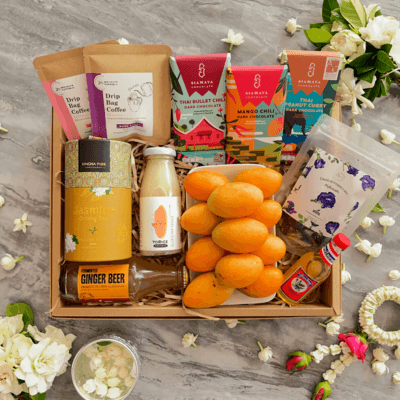 Sounds like a lot of work? Don't worry, we got you. With SnackMagic's wide array of gift boxes, available all over the world, we have everything you need to make this Songkran a memory to cherish no matter where you are!
Why not take a look at the fantastic boxes our partners in Thailand have curated? Who better to put together the best Songkran selection for you! And take a look at what one of our local partners had to say about the Thai New Year's celebration:
1. A lot of people associate Thai New Year with the Water Festival. What does it mean personally to you?
Nitiwat: For me personally, Thai New Year is a time when most Thais go back home and have family reunions. It is a time where can I see all my grandparents or cousins all at the same time.
2. How is Songkran celebrated in your family? Are you following the tradition, or do you have something on your own?
Kristian: "Most members of my family will return to our hometown, and we will spend time together during this long holiday. I've been looking forward to this day since I was a kid because I want to splash around in the water with my friends. But, for the time being, older generations continue to meet up, where the younger generations, like me, prefer to party or go somewhere to celebrate."

Nitiwat: "In my family, the way we celebrate Songkran is by getting together and enjoying a big meal, and paying respects to our grandparents and elders. My family is based in Bangkok but we all work in different parts or regions of the city. So once a year during Songkran we all meet at one of my grandparents' houses and eat! This is the real tradition for most Thais. When you see people partying and shooting each other with water guns on the street, this was actually something recently created by the newer generation of Thais."
3. What do you consider essential for a perfect Songkran?
Nitiwat: The perfect Songkran for me would probably have to be lots of food and also the decreased traffic in Bangkok.
Kristian: The Songkran festival is, in my opinion, a special occasion that reminds me of when I was a child and how happy I am when all members of the family come to meet and spend special time together and see a smile on their face that's a perfect time of mine.
4. What are your tips for a perfect Songkran?
Nitiwat: My #1 tip would be don't drink and drive. Songkran is notorious for road accidents because of everyone trying to get back home to reunite with their families. You have to be extra careful if you're traveling out of the city.
Kristian: Bring a drink and a water gun with you when you go outside, have fun, and try not to get too wet. Oh, and make sure your phone is well hidden from water.

5. Where do you like to go during Songkran, and what do you like to do there?
Nitiwat: Normally I just hang out with family during Songkran. My family is big on cooking large meals and enjoying them together.
Kristian: When I was a kid, I used to enjoy splashing water with a friend and getting wet. But, for the time being, I prefer to meet my friends for Songkran parties and water fun.

สวัสดีปีใหม่ Sawasdee Pii Mai, Happy New Year!