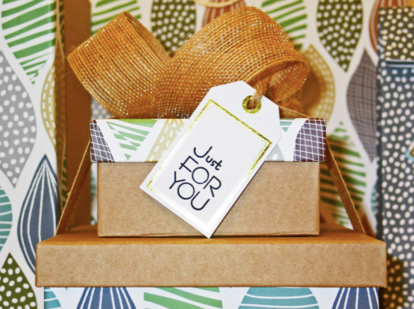 The Great Resignation is here, and it's affecting more businesses than ever. It's time for HR departments to step it up and make their employees feel appreciated, welcomed, and celebrated.
One way to do this is by making the onboarding swag process as welcoming as possible. What better way to do that than with gifts? You must be wondering what kind of gifts you can give to new employees; we're here to help with getting cool swag ideas for employees. 
In this article, you'll find welcome kits for remote employees who have just joined your organization. New hires deserve to be celebrated and feel like they're a part of the team; here is some great corporate swag you can give them to boost morale.
Top Welcome New Hire Gift Ideas for Remote Employees
1. Visualization Journal
A visualization journal is a good welcome swag to offer a new hire. A journal is great for writing down the things that matter to them the most and planning for their future. This is an excellent way for them also to write down personal and professional goals. Giving a new employee this gift shows them that you are rooting for them and want them to achieve great things in the future.
Our pick for your welcome gift: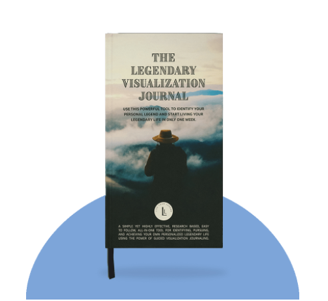 This visualization journal is available at SnackMagic for only $26, you can find it here.
2. Beautiful Desk Calendar
A pretty desk calendar can be a lovely addition to anyone's home office. You can add this to your employee kit to give them a unique, beautiful calendar that will make their desk look more attractive.
Our pick for your welcome kit: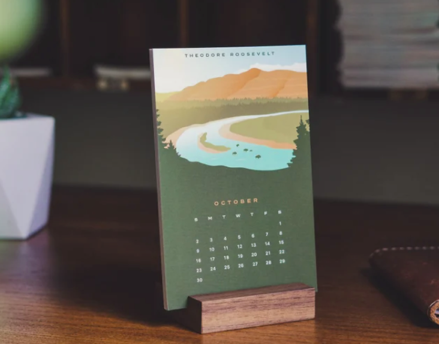 This lovely desk calendar is available on Etsy for $20, you can find it here.
3. Home Office Supply Organizer
With remote employees, staying organized while they work from home is often a challenge. By getting them an office supply organizer, you'll be giving them a gift that they can actually use to keep their home office free of clutter.
Our pick for your welcome swag: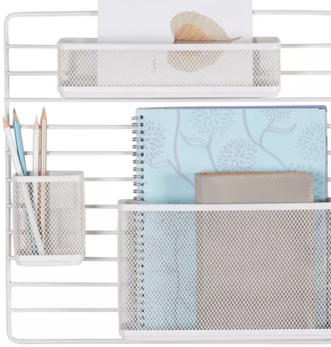 This lovely office supply desk organizer can be found at Target for $17.
4. Delicious Snack Stash
SnackMagic offers welcome kits that you can personalize to fit your needs. You can gift your new hires with a cookie collection, and all sorts of other snacks. These can be combined in one kit that includes a digital branding experience, personalized notes, and other swag options. It makes this a great branded swag idea.
Our pick for your welcome kit: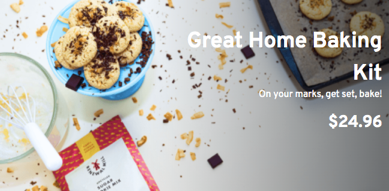 You can get this home baking kit from SnackMagic for $24.97. Check out how this website building company treats its remote employees with snacks!
5. Professional Headset
One of the gifts that will be most useful for a remote employee is a professional headset. With this, they'll sound better on virtual calls and will give a better impression when they're on client calls.
Our pick for your welcome swag: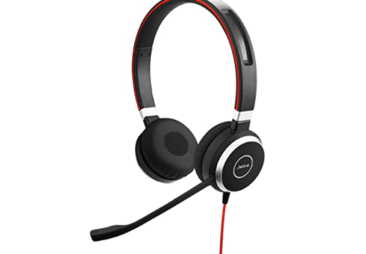 This Jabra Evolve headset uses a USB connection and is great for new employee swag. It's available on Amazon for $90.
6. Low-Light Office Plant
Buying an office plant is a nice way to brighten up a remote employee's workspace, and it's a gentle reminder that someone was thoughtful enough to buy them a low-maintenance plant. It's preferable to buy a low-light house plant that can survive without needing constant sunlight.
Our top pick for your welcome gift: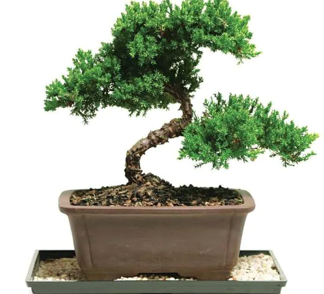 This bonsai plant is low-light and requires minimal maintenance. It's a beautiful office plant that you can buy at Home Depot for $32.
7. Professional WebCam
A professional webcam is a great gift to give a new hire who works remotely. With the constant virtual meetings they have, this webcam will improve their camera quality and make them look more professional on calls.
Our top pick for onboarding swag: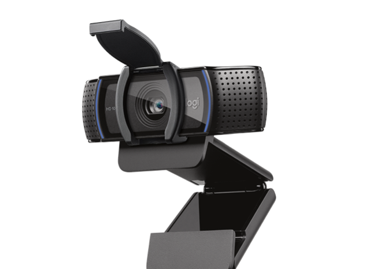 This Logitech C920 webcam can be found at Walmart for $64.
8. Portable Lap Desk
A lap desk is a unique gift to give a remote employee. It will definitely put a smile on their face when they see that you got them a portable desk that they can use in their office, living room, and bedroom.
Our top pick for your welcome swag: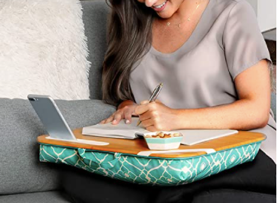 This lap desk comes with a phone holder and device ledge. You can buy it on Amazon for $30.
9. Stunning Desk Lamp
It doesn't sound like much but it's quite nice to have a strong lamp by your desk that is also a lovely addition to the office aesthetic. Depending on your taste, you can choose a statement piece (so you don't look cheap) or you can choose a simple design that goes with anything.
Here's our to pick for your welcome gift: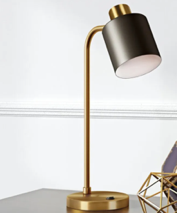 You can find this simplistic, modern lamp at Wayfair for $90.
10. Adjustable Foot Rest
If you have an office job, you understand how uncomfortable you can get sitting in one seat for 5+ hours each day. Having a proper footrest could help you align your body in a more suitable position to improve your posture. More importantly, it can make people feel more comfortable while working in their office. Whether that office is at the company building or in their homes, employees would really love this gift.
Here's our to pick for your welcome gift: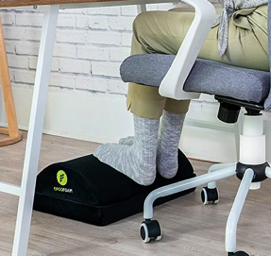 This footrest can be found on Amazon for $40.
11. Scented Candles
Scented candles are universally loved, and they can create a lovely atmosphere or rejuvenation in someone's home or office. If your company likes to promote wellness, this would be an excellent gift to offer your new hires to enjoy the benefits of having scented candles in their home offices.
Here's our to pick for your welcome gift: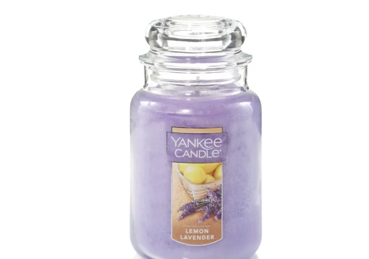 The lavender scent is great for promoting relaxation and positive energy. You can find this at Yankee Candle for $30.
12. Hydroflask
Most people don't drink enough water during the day, and having a water flask can help them monitor their drinking levels and drink more water than they used to. It's convenient to have a flask and use it instead of glasses that can easily tumble and pour on the electronics.
Our top pick for this is: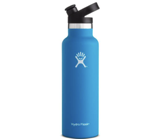 You can buy this hydro flask here for $35.
13. Electronic Device Sanitizers
Not many people think of this, but our screens and keyboards are littered with germs and bacteria. It's important to promote cleanliness by regularly cleaning these devices with specialized sanitizers. This is a very thoughtful gift that you can give both your remote and in-office workers. It's also a unique gift that not many people think of getting.
Here's our top pick: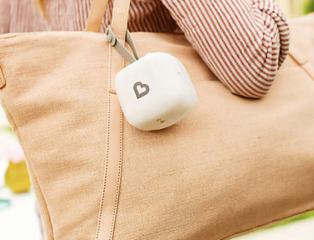 This portable UV sanitizer can be found at Munchkin for $19.
14. Cable Cord Organizer
We all know how chaotic in can look when multiple cable cords are scattered across our floor and desk. Most people don't think to buy these kinds of things for themselves, yet the chord organizers are quite useful in keeping the place organized.
Here is our top pick for your welcome kit: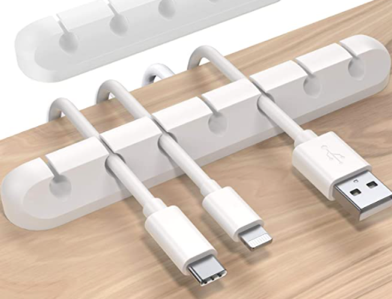 You can buy this handy item from Amazon for $10.
15. Yoga Mat
One of the best ways to manage stress is through meditation, exercise, and light stretching. Yoga is a good combination of all those things and it's a great way to relax at the end of a long day. It's also a great way for remote workers to improve their posture, stretch their tense muscles, and unwind after work. It would make a very thoughtful gift and show your new hires that you value their well-being!
Here's our top pick for your welcome kit: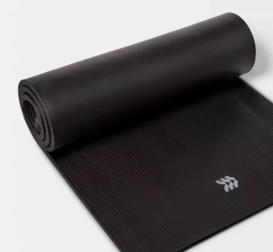 You can find this mat at Target for $25.
16. Subscription for a Meditation App
Another way you can tell your new hires that "hey, I care about your wellbeing," is by paying for an annual subscription for a meditation app like Calm. This is an app that supports them through their meditation journies and tells them calming bedtime stories when they're having a hard time getting restful sleep. This is also another valuable gift you can give to people who are often overwhelmed and stressed out from the remote work lifestyle.
You can buy the Calm annual subscription for $69.
17. Fitbit
When you're sitting and staring at a screen all day, it's easy to forget to go outside and move your body. This happens a lot with remote workers who have to work long hours. You can help them by getting them a Fitbit, which will give them movement reminders throughout the day. This can go a long way for their overall well-being!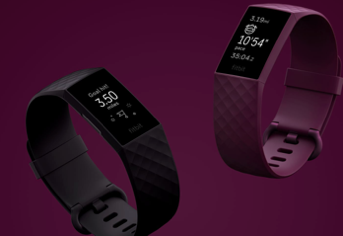 You can get this Fitbit for about $100.
18. Underdesk Elliptical
An under-desk elliptical can promote movement, it can be put in their home office. Instead of a footrest, this can be used to stimulate while new employees are working. It allows them to have exercise during the long hours that they work in their offices. It's not bodybuilding, but it does make a huge difference!

You can get this under-desk elliptical on Amazon for about $250.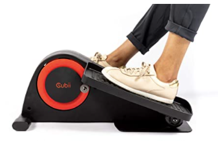 19. Blue Light Glasses
People who spend more than 8 hours a day staring at glowing screens tend to have eye exhaustion. One way to combat this is by reducing screen time, but that's not very practical for people whose jobs depend on them staring at their computer screens. The next best option is to make sure that they can use blue light glasses that filter the blue light that comes from screens to protect their eyes and improve their overall sleep quality.
Here's our top pick for your welcome swag: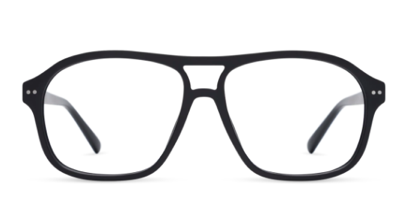 You can buy these glasses from Wills Blue Light for about $80.
20. Personal Air Cooler
Having a personal air cooler is super convenient when it's a hot summer day and you're stuck in your home office with no air conditioning. It's portable, simple, and chic, and it comes with a power bank and a power socket that makes it easy to use anywhere. Check out this air cooler that is bound to make your new employee smile:
You can get this personal air cooler from Eva Chill for $99.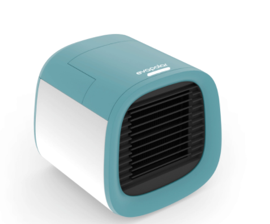 21. Seat Cushion
Some people don't have proper ergonomic chairs so they use their wooden kitchen hairs as substitutes. As you can imagine, this can get increasingly uncomfortable especially for those who have to sit for long periods of time. Buying a remote worker a seat cushion can greatly improve the way they feel when they sit down to work.
Here's our top pick for your onboarding gifts: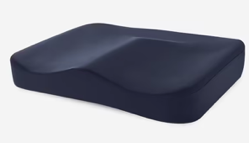 You can buy this from Tempur-Pedic for $90.
22. Laptop Ring Light
A ring light can really transform a person's appearance on camera. It's a great gift for those who have to look good on camera and have multiple virtual meetings a day. Even those who regularly record videos will need something like this as well because it improves their appearance significantly.
Here's our top pick for your welcome gift: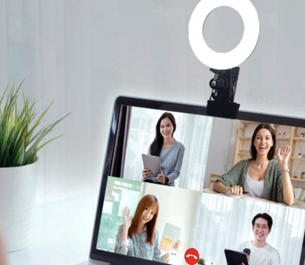 You can buy this on Amazon for about $15.
23. Coffee Subscription
A coffee subscription is so thoughtful because so many Americans can't start their days without a sip of coffee. If you choose the best coffee and get them a subscription to a little coffee kit, that would definitely cheer them up whenever they remember that their company bought it for them.
Here's our top pick for your welcome swag: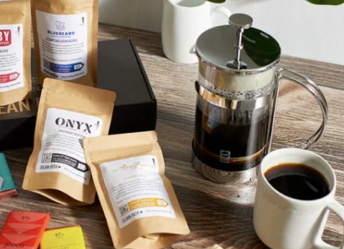 You can use Beanbox to find the best coffee subscription to buy, prices vary according to the subscription that you choose.
Our Final Thoughts
With the rise of work from home lifestyles, there is a need for HR departments to think of creative ways to make their employees feel welcomed, engaged, and collaborative. It's important for your new hires to feel like you value their wellbeing and comfort; these gifts will show them that you do. Remote workers need lots of things and most of those things center around comfort, wellness, and organization. If you follow this gift guide, you'll find lots of great options that will make your welcome kit thoughtful and meaningful. These welcome gifts are excellent ways to make new hires feel like they are special and appreciated. Happy shopping!
24. Recycled Leather Bound Journal
Notebook and pen are quite a dynamic duo. Everyone needs them, especially the new hires. When new employees first join, they will have a lot of zoom calls and many tasks to do for onboarding. These two items will help them remain organized and stay on top of all the to-dos. Great swag option especially for remote employees who want to rock that branded swag. You can't go wrong with this duo.
Our pick for your welcome kit: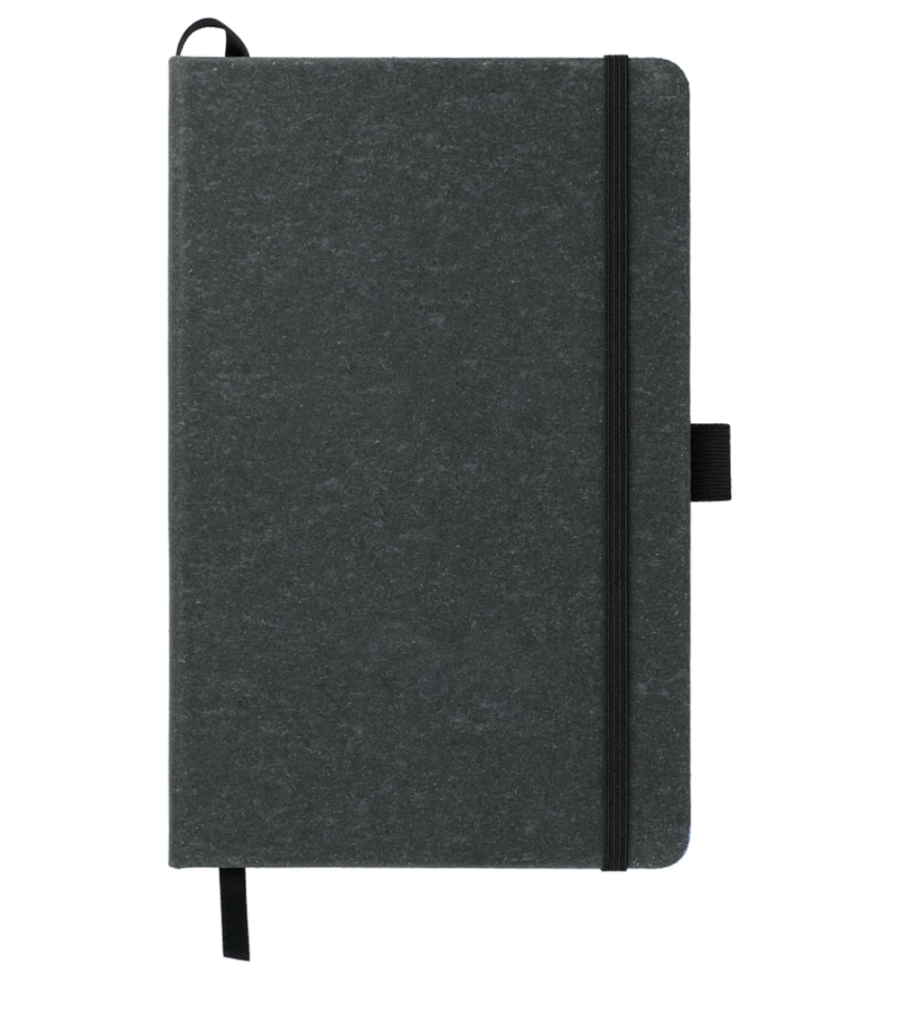 This Recycled Leather Bound Journal is available at SwagMagic for only $26, you can find it here.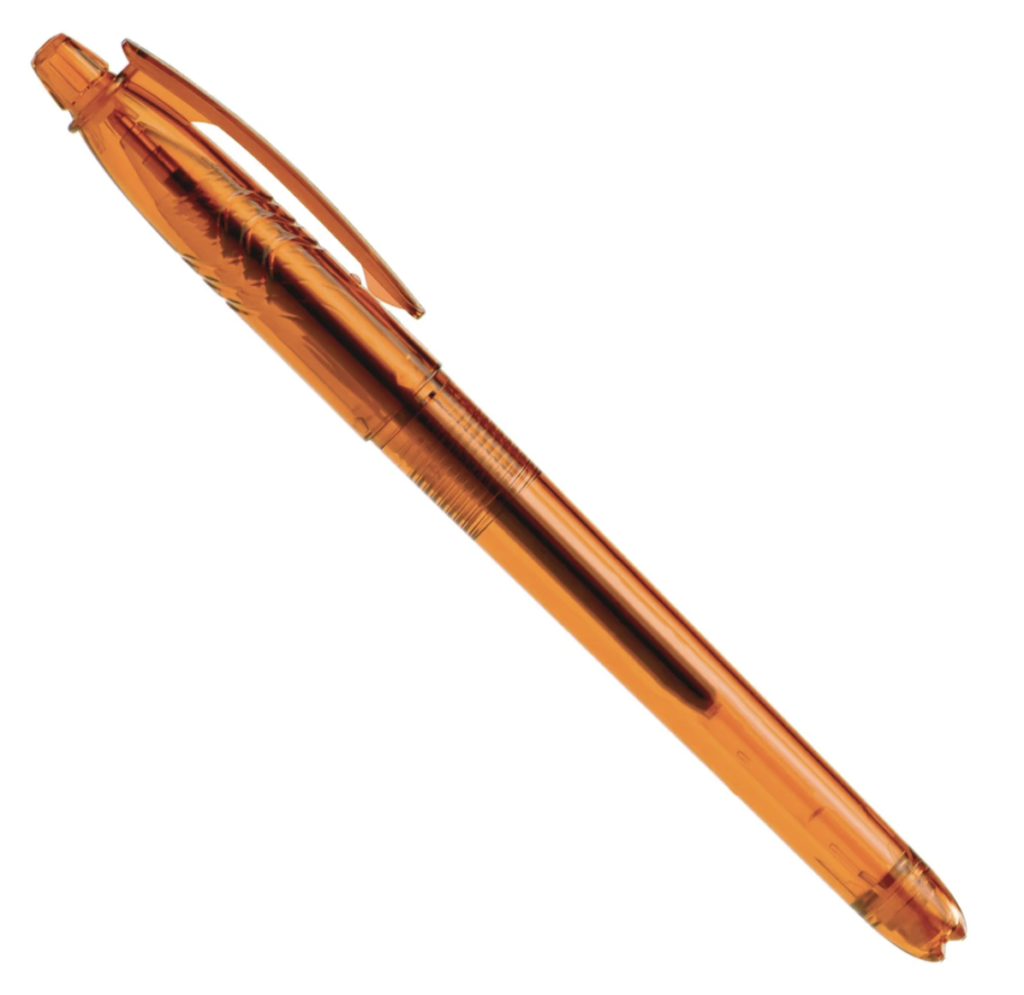 This Recycled PET Plastic Pen is available at SwagMagic for only $2, you can find it here.
25. Branded Hoodie
The most popular welcome gift for new hires is arguably hoodies. Not only are hoodies great for new employees to feel more connected to the company brand, but they are also super useful for the office setting. Everyone has experienced a cold office before – either the AC is way too strong or somehow the office heater breaks down on a cold winter day. Surprise your new hires with some comfy & company-branded hoodies to put some smiles on their face.
Our pick for your welcome kit: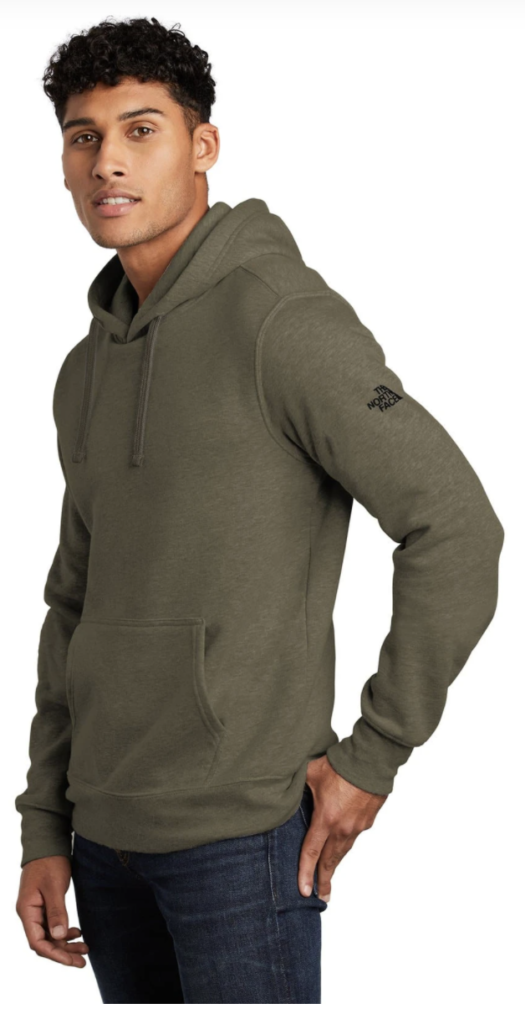 North Face Pullover Hoodie – we love the simplicity and softness of this pullover hoodie starting for $68 from SwagMagic. It is a great unisex option and a perfect one to leave in your in-person office (or your home office)
You can find this simplistic, modern lamp at Wayfair for $90.
This foot rest can be found on Amazon for $40.