Are your workdays beginning to blend in? Need something more exciting than oatmeal for breakfast or a PB&J sandwich for lunch? We got you. Here's 5 recipes that'll definitely shake up your week powered our brand partner: Karuna. View their products on our menu here and add it to your stash!

Monday: Berry Smoothie
This sweet, fresh drink mix is powered by nourishing fruits. Including a whole plant juice featuring peach, mandarin, and kiwi!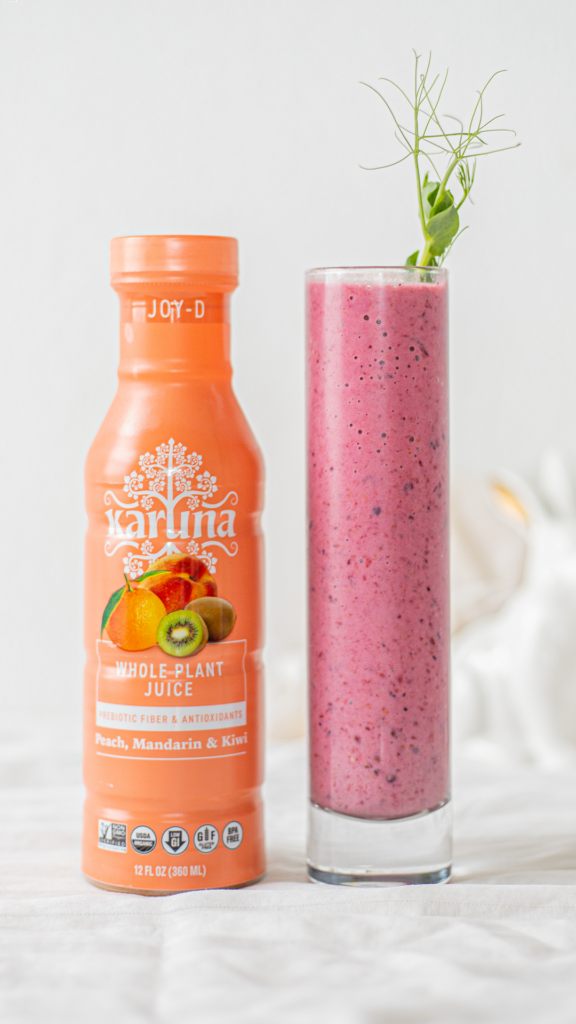 Prep Time: 5 min
Total Time: 5 min
Yield: 2 servings
Ingredients
1 bottle KARUNA'S JOY-D
1 cup berries, frozen
2 overly ripened bananas, frozen
3 mandarins, peeled with core removed
½ cup non-fat Greek yogurt (optional)
Instructions:
Process all ingredients in a high-speed blender until well combined. Divide evenly into two servings and enjoy immediately!
Tuesday: 3-Ingredient Chia Pudding
In need of a simple, easy recipe to add some nourishing, sustaining fuel to your day? This chia pudding is perfect for you! The chia seeds absorbed create a healthy and delicious treat that is great as a breakfast side, energy snack, or a nourishing dessert. This works well as a meal prep option too. You can store it in the fridge for up to seven days, so go ahead and shake things up!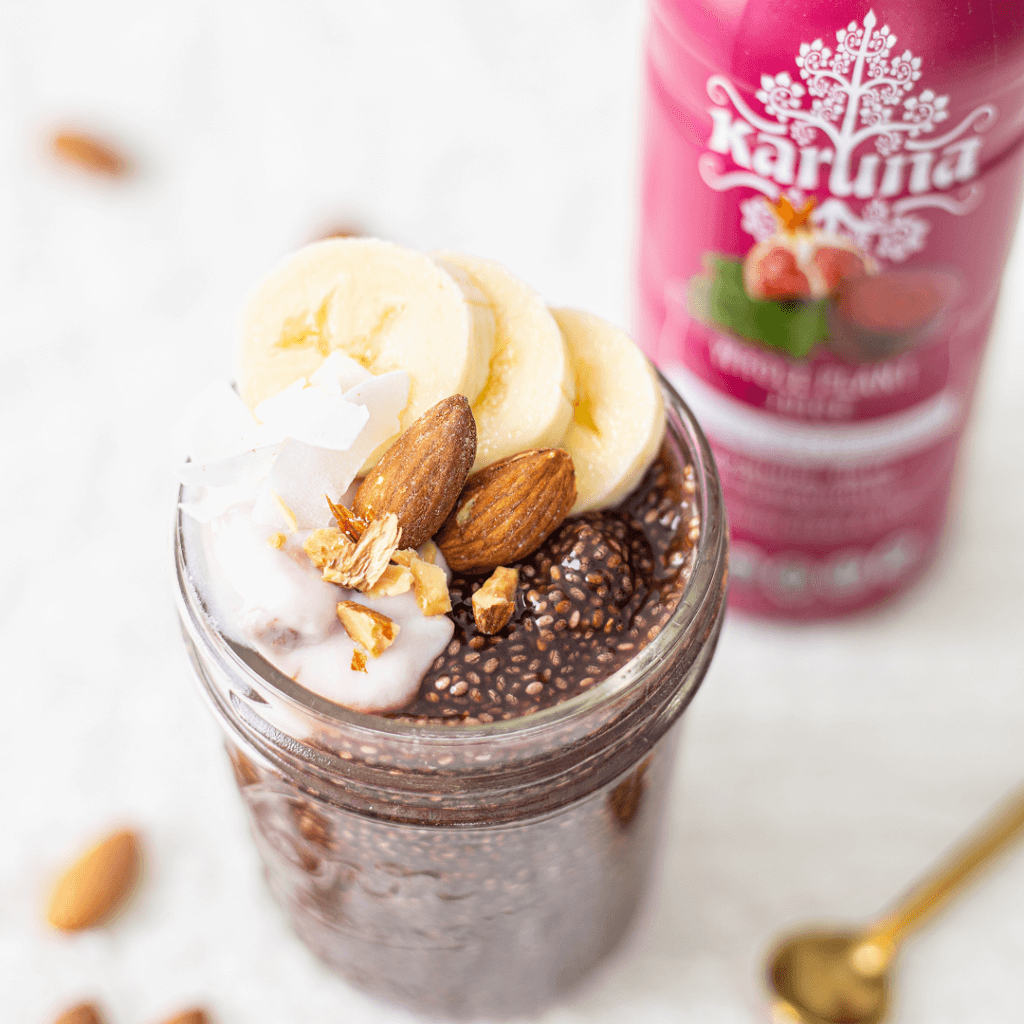 Prep Time: 5 min
Total Time: 2 hrs 5 min
Yield: 1 serving
Ingredients
For the chia pudding
For the toppings (optional)
cherry yogurt
banana coins
almonds
coconut flakes
Instructions:
Add all ingredients into a small jar. Seal and shake to mix.
Allow the mixture to sit in the fridge for 2 hours before adding toppings and enjoying.
Notes:
Use 1 tbsp sugar, stevia honey, maple syrup, or agave syrup in substitution for the monk fruit.
Wednesday: Lemon Poppyseed Baked Oatmeal
For those who are looking for a good breakfast in bed dish to treat your loved one to, we highly recommend this scrumptious lemon poppyseed baked oatmeal! Freshly baked, the sweet aroma of lemon will fill the room, begging you to dive right into the delightful, cakey oats.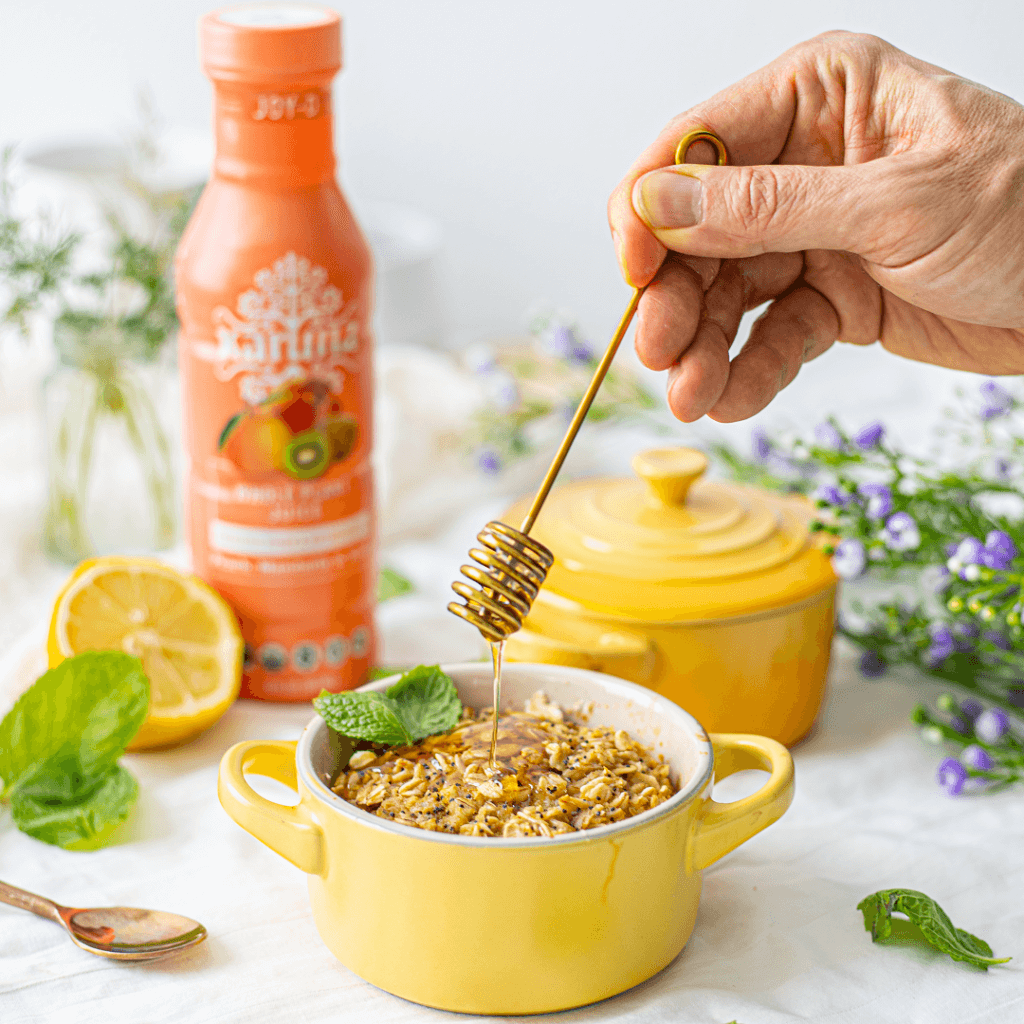 Prep Time: 5 min
Cook Time: 20 min
Total Time: 25 min
Yield: 1 serving
Ingredients
½ cup KARUNA'S Rejuvenate
½ cup old-fashioned rolled oats
¼ tsp baking powder
2 tbsp poppyseeds
1 tbsp lemon juice
1 tsp lemon zest
½ tsp vanilla extract
2 tbsp monk fruit
pinch of sea salt
1 tbsp honey for serving
Instructions:
Preheat the oven to 350°F (176°C).
Mix all the ingredients excluding the honey in a small cocotte.
Bake for 18-20 minutes or until golden brown. Top with honey and serve warm.
Notes:
For a plant-based substitution for the honey, use agave syrup or maple syrup.
Thursday: Mini Fruitcakes
We're bringing you some festive joy with this scrumptious fruitcake recipe! This plant juice is especially aromatic when paired with the sweetness and nuttiness of dried fruits and walnuts. This delicious combo is sure to bring you all the nostalgic flavors of this holiday classic!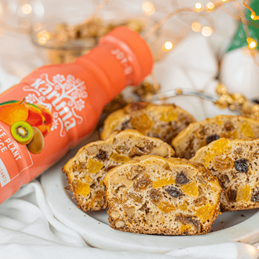 Prep Time: 15 min
Cook Time: 25 min
Total Time: 40 min
Yield: 1 dozen
Ingredients
1 bottle KARUNA'S JOY-D
1 egg
1/2 cup sugar or zero-calorie sweetener
½ tsp vanilla
1 cup all-purpose flour
½ tsp baking powder
¼ tsp baking soda
½ tsp cinnamon
½ cup dried apricots, finely chopped
½ cup dried dates, finely chopped
¼ cup raisins
¼ cup golden raisins
oil for coating pan
Instructions:
Preheat oven to 350°F (175°F). Prepare a 12-cavity muffin tin, lightly coating in oil.
In a small bowl, beat together KARUNA'S JOY-D, egg, sugar, and vanilla. In a separate mixing bowl, whisk together the flour, baking powder, baking soda, and cinnamon. Whisk in the wet mixture into the dry mixture. Mix until just combined.
In a large mixing bowl, toss together the apricots, dates, raisins, and golden raisins. Pour in the batter and incorporate. Divide mixture evenly and transfer to muffin tins.
Bake for 20-25 minutes or until a toothpick comes out clean when inserted into the middle of the fruitcakes. Allow to cool before removing from pan. Enjoy!
Friday: Strawberry Watermelon Mocktail
There's only one way to survive the summer heat, and that's sipping on this strawberry watermelon mocktail made with Karviva's ACE Sports Drink, Watermelon Rush! With a few simple ingredients, you'll have this refreshing mix in your hand!
Karviva's Watermelon Rush has high levels of antioxidants, collagen, and electrolytes. It's also organic, non-GMO verified, and gluten-free. Shop now on Amazon!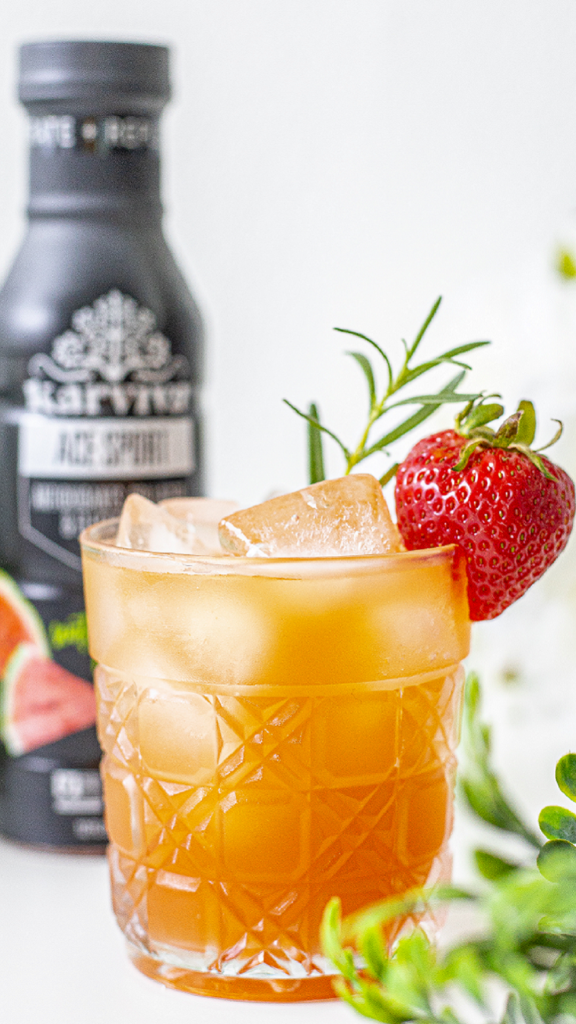 Prep Time: 10 min
Total Time: 10 min
Yield: 1 serving
Ingredients
2 oz Karviva's Watermelon Rush
2 oz sparkling water
1 oz strawberry puree or strawberry simple syrup
squeeze of lime juice
glass of ice
1 small strawberry
sprig of rosemary
Instructions:
Fill a glass with ice.
Pour in Karviva's Watermelon Rush, sparkling water, and strawberry puree/simple syrup. Add a squeeze of lime and stir to combine.
Garnish with rosemary and strawberry.
Let us know if you try any of these recipes out and how they turn out. You can view Karuna products on the SnackMagic menu here. Enjoy!