What if you could bite into a delicious (and nutritious) granola bar and know that with every purchase, you are saving a life? I've got news for you:
This Bar Saves Lives. No, really, it says it right on the packaging.
Co-founders (and actors) Kristin Bell, from The Good Place, Ravi Patel from Master of None, Ryan Devlin, and Todd Grinnell came together in 2013 and decided to make it their mission to help end severe acute malnutrition in children. Just 7 years later, This Bar Save Lives has sent 18,866,500 packets of lifesaving nutrition to hungry children in Haiti, South Sudan, Ethiopia, and Somalia, a few areas most affected by malnutrition. The brand's non-profit partner, Action Against Hunger, says we might see the number of children impacted by severe malnutrition doubling from COVID-19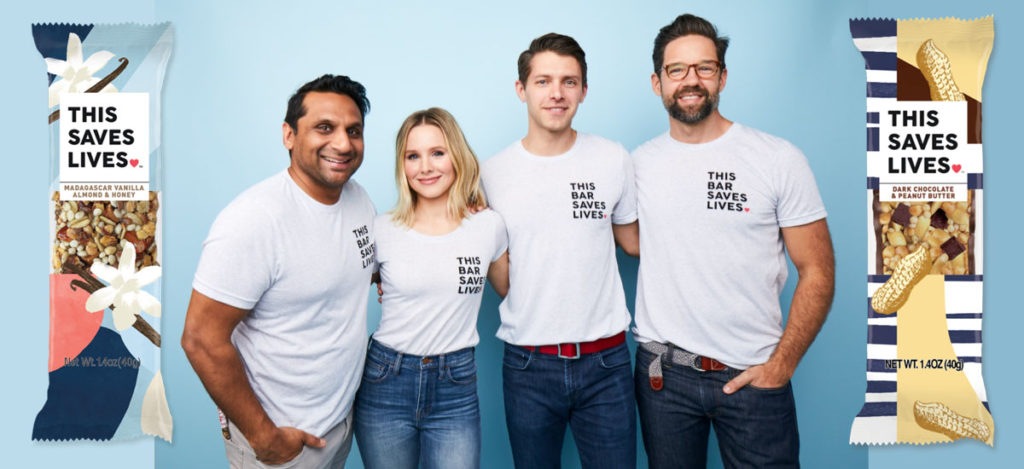 The packet contains a powerful peanut paste full of vitamins and nutrients specifically designed to treat malnutrition. It only takes three packets a day for about 8 weeks to take a child from severely malnourished to completely healthy. (No exaggeration!)
At SnackMagic, we believe in the power of giving back, which is why we paired up with This Bar Saves Lives, so that every time you add a bar to your Snack Stash, a packet of life-saving food is sent to a child in need.
This Bar Saves Lives is made up of healthy ingredients that are non-GMO, gluten-free, and kosher. Try all their yummy flavors like Wild Blueberry and Pistachio, Madagascar Vanilla Almond and Honey, and Dark Chocolate and Coconut. With just 200 calories, it's perfect for traveling and an afternoon snack (for both you and your kids). The next time you feel the urge to eat a candy bar, pick a This Bar Saves Lives granola bar and know that you are making a difference.
Pairs well with…
SnackMagic customers love snacking on This Bar Saves Lives with these:
Solely Fruit Jerky
Nome Snacks Coconut Chips
SmartSweets Gummies
What should we stock next?
Have a favorite snack or beverage brand you'd love to see on the SnackMagic menu? We're always looking for unique and tasty new products. Comment here or send us a message for recommendations.