Balkantina is a gastro-cultural agency based in Sarajevo, Bosnia and Herzegovina. We offer immersive gastro experiences with locals, promote small local producers and sell their products. We do a myriad of different events whose main topic is always top-notch food and drinks. Our HQ is located exactly in the heart of Sarajevo oldtown and our strong heartbeats are felt throughout whole Bosnia and Herzegovina.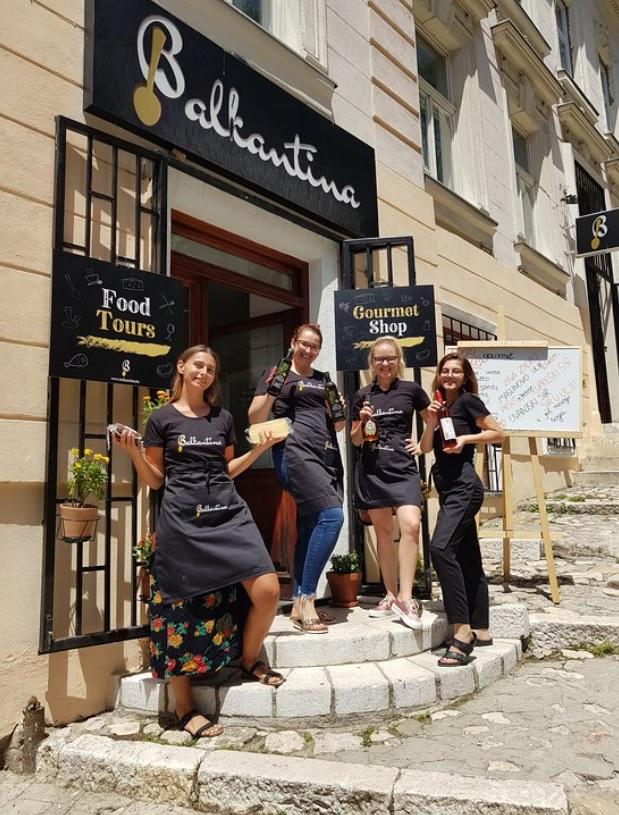 Our partners are our strength, motivation, and reason for our existence. In return, we make it easier for people to find tastier snacks, the most special drinks, and the most lovely handicrafts. Each product has its own unique story to which these few sentences do not do justice!
Guided by our mission, Balkantina implemented the campaign "Hrana Gurmana" which promoted small producers of high-quality food from fruit and vegetables, dairy, poultry, honey, medicinal and aromatic plants, and mushroom sectors. The Hrana Gurmana campaign website is designed as an online hub to connect food producers, consumers, and other partners in a collective farm-to-fork chain.
Women always stick together
We work with so many excellent partners. Honestly, we would need a book to write on what makes them special and why they should be everyone's first choice. Our first partner we would like to share their story with you is this group called Hercegovka Cooperative. They are the proof that women always stick together. Women farmers from the vicinity of Stolac come together to produce and promote Herzegovinian products. They created new jams through an innovative combination of flavors like no one had ever seen before. They combined lavender with peach and apricot and strawberry with mint, thus connecting modern tastes with the traditional ingredients of Herzegovina. This created an entirely new aroma that everybody must try. You simply have to love these ladies.
Just several years ago, we could not find a single BH product that would flame our palates. Then things got heated! We partnered with two producers of the most loved hot sauces, and one of them is called Chilli Pop's.
Chili Pop's was born in Banja Luka. This craft producer of hot spices grows its raw materials on the slopes of Kozara mountain. There, peppers sprout in February, and the first ripe fruits come in the second half of July. You can find sauces that combine fruity and spicy flavors, such as sauces with cherries or prunes. The creator of these spicy flavors is Dragan Popović, supported by his entire family that quickly became a fan of spicy food. Be sure to try their Krajiška Ljutica sauce, which is a combination of Trinidad Moruga and Habanero peppers, or Borovica and Narandžero sauces.
"We are a small craft production of various hot spices. From the first day, we were aware that only a quality domestic product could survive, and our first step was to grow our raw materials. Today we grow over 30 different varieties of hot peppers. Some of them are quite extreme and reach over a million Scovilles, such as Moruga Scorpion, Naga Viper, Bhut Jolokia, and Carolina Reaper. We are grateful to our friends and partners who have supported us and given us the will and inspiration to create new products constantly. We hope that one day, Chilli Pop's sauces will be part of everyone's table"
Dragan Popovi
People often ask us which product we like the most as if someone were asking us, which child do you like the most. They need to know that they're loved uniquely for their own special, separate selves. Our partners are our family members. But if we need to single out some favorites, they are colorful honey (hazelnut and nettle seeds in honey), Lily butter, and our famous jar with hazelnut kernels.
Our partnership with SnackMagic has been nothing but great. We see this partnership with SnackMagic as the perfect opportunity to promote our domestic products and share them with the world! Each of us takes an active interest in the other while working together to develop shared success, absolutely a dream team!