Hi snackers! My name is Josh Henderson, and I am the owner of Dolci di Livia and Dippin' Rings Cookies. The former is a SnackMagic international fulfillment partner based in Florence, Italy, and the latter is an Italian cookie company based in Italy and the United States.
As an American who met and married an Italian woman while living in New York, I became fascinated by Italian culture, particularly the love of food. This shared appreciation led my business partner, John Kesl, and I to start Dippin' Rings in 2019. We began with an old family recipe for wine cookies and a belief that good food made with quality ingredients can connect people with the experience of a place.
One of our first customers was a fast-growing e-commerce business that had rapidly adjusted to the new reality of the pandemic and how it was reshaping how people snacked. Believe me…we were all snacking during the early days of the pandemic! Every time they placed an order, it seemed bigger than the last one. Every time we dropped off our cookies, their warehouse was bigger too! The people we worked with all had a wonderful attitude and continuously operated with a smile. As you can probably guess, it was SnackMagic!
Changes were in store for us both personally and professionally. Livia and I talked for years about the possibility of moving back to her country at some point in the distant future. With the onset of the Covid19 pandemic and three children in tow, we relocated to Italy.
My partner John stayed in the US to manage our cookie production, but I was never idle, so I set out to open up new sales channels for our cookies in Europe. Around this time, SnackMagic put out a press release announcing their intention to expand internationally. What timing! I reached out to my contact in New York, and he put me in touch with the international team. Within three weeks, we were up and running!
We had no Dippin' Rings to put in boxes, and shipping them from the US to Italy would be prohibitively expensive. While building a network to find the right production partner here, I discovered that many local food artisans in Italy were suffering under the pandemic's rolling closures and the diminished tourism. We decided to start curating boxes not with our cookies but with local products… with the idea that many tourists were missing Italian food, and we could also help local food producers.
As with most things, you start with what you know, and my kids loved eating Poggio del Farro's breakfast cookies filled with jam. I contacted the PDF team and learned that they had a full range of cookies and treats made with the ancient grain Farro.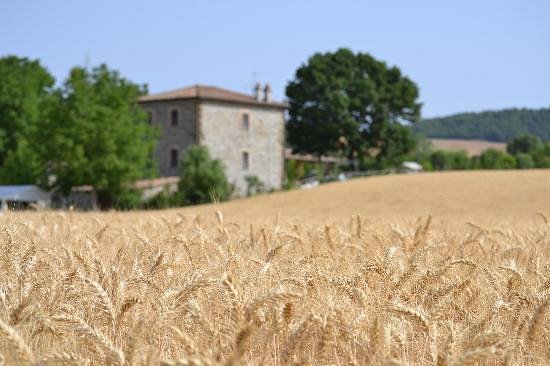 I thought it would be great to offer people a savory snack. At dinner at Il Borro near Ponte Vecchio, I first tasted Spighe Toscane's organic Velette, a healthy snack potato crisp alternative. I furiously googled them and the following week, I drove to their idyllic farm south of Florence with over 2,000 olive trees to meet with the owner and his team. Their products are organic, and all ingredients are being produced on their farm. An authentic taste of Tuscany!
One of the many things Italy is known for is its excellent coffee. Did you know that the idea for Starbucks as we now know it came from Howard Schultz's visit to an espresso bar in Milan? Every morning I walk past a mysterious building with the incredible aroma of roasting coffee. This particular week, my curiosity got the better of me, and I rang the bell. In that serendipitous visit, I met the 3rd generation of family owners at Dini Caffe, and we are currently working on a plan to pair their incredible coffee with Dippin' Rings Cookies to bring you a coffee and cookies stash!
We continue to add curated stashes focusing on local producers with exceptional products. It has been a fascinating ride, and we've watched the world change and dealt with everything from supply chain shortages to disruptions with shipping partners due to anti-vax work strikes. Through it all, our guiding principle has been and will continue to be, providing our customers with the experience of Italy through SnackMagic, with the highest quality food.