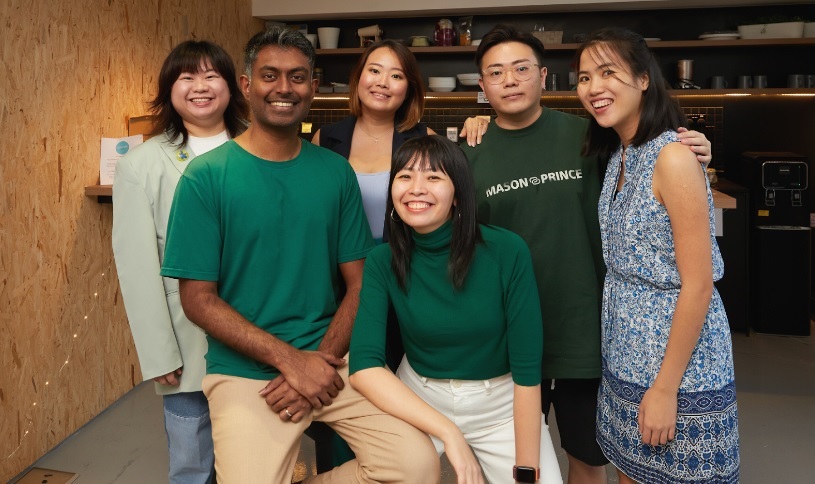 "We founded GiftGood with the vision to become the go-to gifting platform that helps up-and-coming Asian brands reach a wider audience with ease and confidence.
Through our gifting platform, we connect people to loved ones in Singapore, from wherever they are, while also increasing outreach for our brand partners. Being a self-funded startup, it's challenging in many ways but we're committed to making this happen — one GiftGood box at a time. We can't wait to see how far we can grow, alongside the brands we love and support."
– Minnie Bui, Cofounder, GiftGood.
The GiftGood Story: How It All Started
Hello! I'm Minnie Bui, Co-founder of GiftGood. Thank you, SnackMagic, for this opportunity to share our story. GiftGood was founded by three good friends — Arij Glycin, Jeannie Nguyen, and I — at the end of 2021.
We met each other at the National University of Singapore more than a decade ago when we came to Singapore in 2008, and we have been good friends since. It was at the end of 2021 when we got together for dinner and talked about our aspirations and the big dreams we have yet to pursue.
I just left my executive position at a leading flower delivery startup and was taking a break to think about what's next. Starting my own business has been at the back of my mind for a while now and the courage gathered from managing a successful pivot during Covid encouraged me to consider the idea more seriously.
Through my previous work experience, I had a good understanding of the gifting market in Singapore and also enjoyed the feel-good nature of the business very much. It's a wonderful feeling being able to help people connect and nurture their relationships regardless of the physical distance.

People have always been relying on flower and gift delivery companies to connect with their loved ones and communicate appreciation. Companies and organizations too are increasingly using gifts as a way to show appreciation for employees, clients, and business partners. And yet, there are still many hassles involved in the process of get gifting done right.
Apart from market potential, we also saw the opportunity to build a mission-driven business. We were very excited about the opportunity to help up-and-coming Asian brands reach a wider audience with ease and convenience through gifting. Being in early-stage startups for most of our 20s and early 30s, we knew first-hand how hard it is to grow a business from zero with limited resources and many constraints.

We saw many good products and meaningful businesses fail to take off due to a lack of market access and other supports such as operations, product design, marketing, technology adoption, and financing. Everything we discussed eventually led to — "Let's make it happen". 
GiftGood: Making Gift Delivery Fast and Meaningful
We founded GiftGood with the vision of empowering meaningful Asian brands with ease and confidence. Our approach is to build the go-to gifting platform that connects these meaningful brands to consumers and companies in the region. This solves the challenge of market access first!
We add value to our online customers, corporate clients, and channel partners like SnackMagic by leveraging our expertise of offering fast and reliable local gift delivery service. We accomplish this all while staying true to our vision: offering a handpicked selection of quality products from meaningful brands in one place.
Building A Gifting Platform That Empowers
What is truly unique about GiftGood is our curation ethos which translates our vision into day-to-day operations. When it comes to curating the products to be featured in our gifting platform, we search for the hidden gems with 3 criteria: Proudly Asian, Impact Driven, and Women-Led.
Our Identity and Culture: Proudly Asian
Empowering up-and-coming Asian brands, and being part of their growth, is at the core of what we stand for. Growing up in Vietnam and India respectively, and studying and working in Singapore, Asia is where our hearts are. Through GiftGood, we choose to work with up-and-coming brands from across Asia by design. Among all the brands we work with, over 50% of them are based in Asia — Singapore, Vietnam, Indonesia, Malaysia, and Hongkong. Half is a good start but our work doesn't end here. In the next few years, our goal is to expand the selection and bring this number to over 80%.
Our Way of Work: Impact-Driven
The second factor in our curation process is Impact-Driven. After all, it's the "Good" in our GiftGood. We care about brands that not only create quality products but also do good for the communities and the environment. Currently, over 75% of the brands listed on GiftGood are those that have social and environmental impact at the heart of their business. We are honored to work with a wide range of impact-driven brands across Asia That make environmentally friendly products through upcycling and recycling. Also they offer fair work opportunities to artisans, farmers, and underprivileged communities, and incorporate other impact-driven practices in their products and operations.

Some examples include:
Dòng Dòng Sài Gòn — Vietnam-based startup that makes stylish bags from upcycled truck covers and awnings,
Peco Bag — the Singaporean brand behind the fun, reusable bags made from recycled plastic bottles,
Confetti Snacks — Singapore-based food startup that transforms ugly veggies into tasty chips,
Lecka — Vietname-based B-Corp certified, healthy energy bar maker,
Krakakoa — the Indonesian bean-to-bar chocolate maker that advocates sustainable farming practices and provides a stable income for underprivileged women.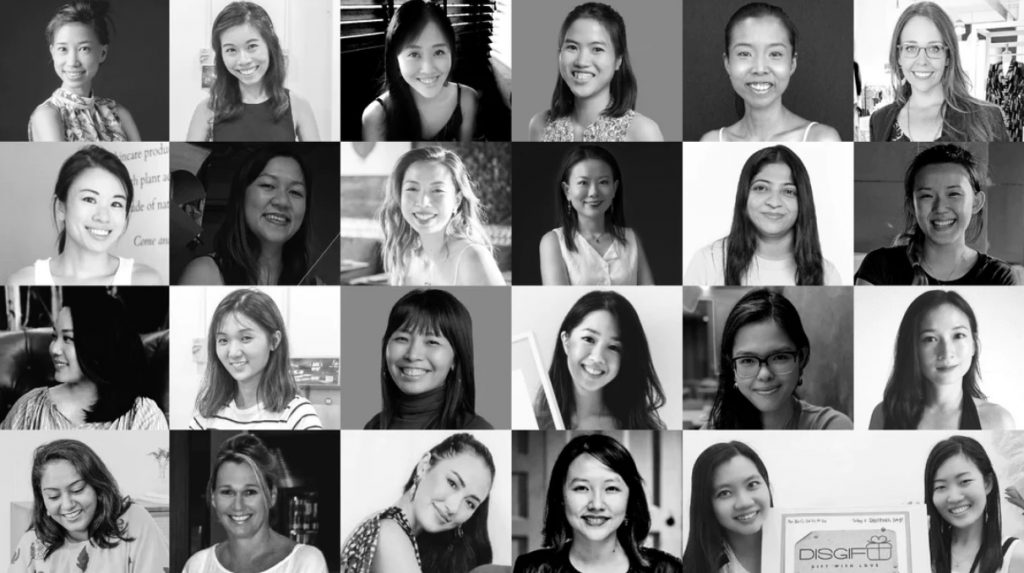 Women-Led Teams and Innovators
The last pillar in our curation ethos is to support and shine lights on women-led businesses around Asia in GiftGood offerings. Being a women-led business ourselves, it's close to our hearts to support other women-led businesses in our ways. Other than curating quality products from women-led businesses, we also started She Rocks — an online directory featuring inspiring female entrepreneurs and business owners we have the opportunity to work with and learn from.
View the full list of meaningful businesses we work with and their products here.
Building A Company That Cares
When we started the company, one of the key things we all agreed upon was to build a workplace that treats its people right. While we don't have a fancy pantry or out-of-the-world benefits like big corporations, we want to focus on creating the best place to work the GiftGood way.
Some of the best examples include:
Family-friendly policy: We create a safe environment that encourages female employees to have open conversations about their pregnancy and family planning matters. It's still common that women in the workforce are worried about sharing news of pregnancy or family planning because it may put them in a disadvantageous position such as not being put up for promotion or not being offered the job — even though it's a milestone for celebration. At GiftGood, we make sure that our team members can talk about the family planning openly, celebrate pregnancy news together, and plan for resources ahead of time.

Compassionate leave for pets: While general compassionate leave for family members is the norm, it's not common to see pet compassionate leaves. When we saw some of our team members who were devastated by the pas
sing of their pets, we decide to revise our leave policy to include compassionate leave for pets as well.

Volunteer leave: Giving back is a big part of who we are. Beyond GiftGood's curation ethos, we also encourage our team members to give back by offering paid annual volunteer leave so they can spend time supporting the social causes they care about.

Meaningful collaborations: We find unique ways to support local social enterprises such as Mad Roaster and Curious Thoughts Giving through collaborations. For example, we create an exclusive greeting card design that commissions artworks from Mad Roaster's community of refugees in Thailand. We also work with Curious Thoughts Giving, a social enterprise that provides free educational programs for kids from low-income a family in Singapore, for our alternative service recovery program. When there's an issue with the order what requires refunds, customers and recipients can choose to donate to Curious Thoughts instead of monetary refunds.
Making Good Things Happen, One GiftGood Box At A Time
We hope you join us in making positive progress happen faster, one GiftGood box at a time. You can pick pre-curated gift boxes handpicked by our team of experts for different themes, occasions, or festive gifting on SnackMagic. We look forward to helping you send your next surprises soon!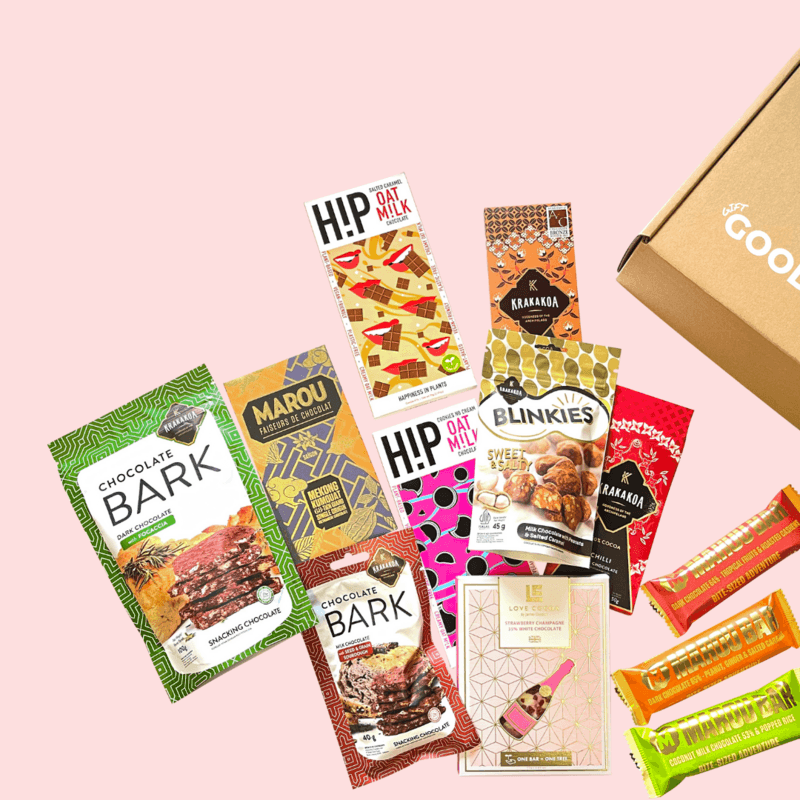 Apply here to become a part of the SnackMagic family! You'll have access to a wide range of benefits, including increased visibility and exposure for your brand, access to a growing community of snack lovers, and the opportunity to boost your sales and revenue. Don't miss out on this exciting opportunity to take your business to the next level.