As part of our holiday gifting season, we thought about ending the year 2021 with a bang! SnackMagic's donation arm Snack & Give Back partnered with a charity organization in South Africa to spread joy to children and give them avenues to let them follow their hearts. By splashing colors, playing soccer, or dancing to groovy dance tunes with a friendly beachside site.
Children With A Need is a registered NPO located in Ocean View, Cape Town. Their main objective is to provide essential nourishment to the vulnerable (children), elderly, and adults in need within the Ocean View, Cape Town area. Drug abuse and unemployment are high, so NPO started with a soup kitchen within the region.
Many families depend on government grants, and kids suffer in households with drugs and often drop out of school. During holidays, birthdays, or special occasions, gifts for their children are beyond the parents' dreams.
This year we decided to make a difference this holiday season.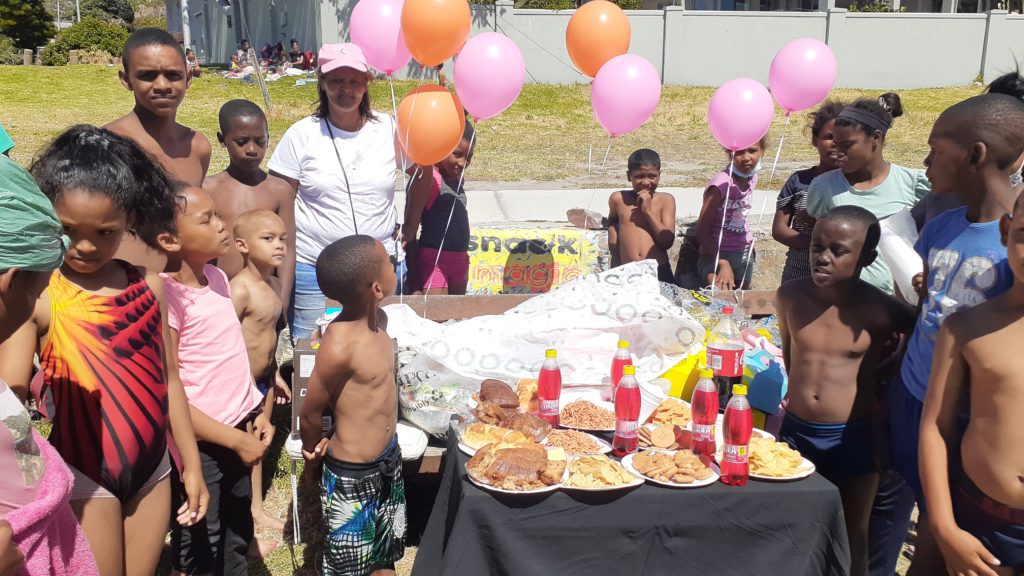 Over three days, 200 children followed their hearts and were engaged in their favorite activities at the beachside with friends. Some splashed colors, some danced to groovy music, some played soccer, but all enjoyed the celebration with memories, delicious sips & munchies.
Local children in the area love dancing in groups to the tunes of "gqom" and "ama piano". So there was a dance-off selecting five girls from the group. The kids love to play soccer on the streets every evening. So we arranged a soccer match at the beach for them.
For the art & craft fans, there was a local artist invited. He created a masterpiece with five children saying, "Thank you, SnackMagic." The star artists who helped mix paints and did handprints were – Rakhim Layters, seven years; Arria Grace Williams, seven years old; Caleb Maartins, ten years old; Kaden Maartins – eight years old; Evangeline Ova – seven years old.
"We are so grateful for the financial donation you have contributed to the success of our final event of the year. We hosted 250 children from Ocean View, Cape Town, South Africa, to a day at the beach with games and fun. Children With A Need appreciates the partnership with SnackMagic. Seeing our community grow inspires us to do so much more. Drug abuse and gun violence occur frequently, and we need to protect and nurture these young minds as they are the future." – Ursula Williams, Founder – Children With a Need.
The day ended with the distribution of SnackMagic treats to all children. Each gift box had Ursula's grandchildren's favorite choices – Lays Chips, a large Fizzer sweet, Manhattan jelly lovely, Lunch bar, Baker Cheddars biscuits, and other goodies.
For the kids who participated in the soccer and dance activities, only 30 were additional treats given for their participation & passion for cultivating their interests. These giveaways were crowd-pleasing munchies we all know – Oreo biscuits, Cadbury chocolate bar, fizzer sweets, lollipops, Simba Chips, candies, and lollipops.
Let's go back to being children again…