The holiday season is only 6 months away and it's never too early to start thinking about great team Christmas gifts.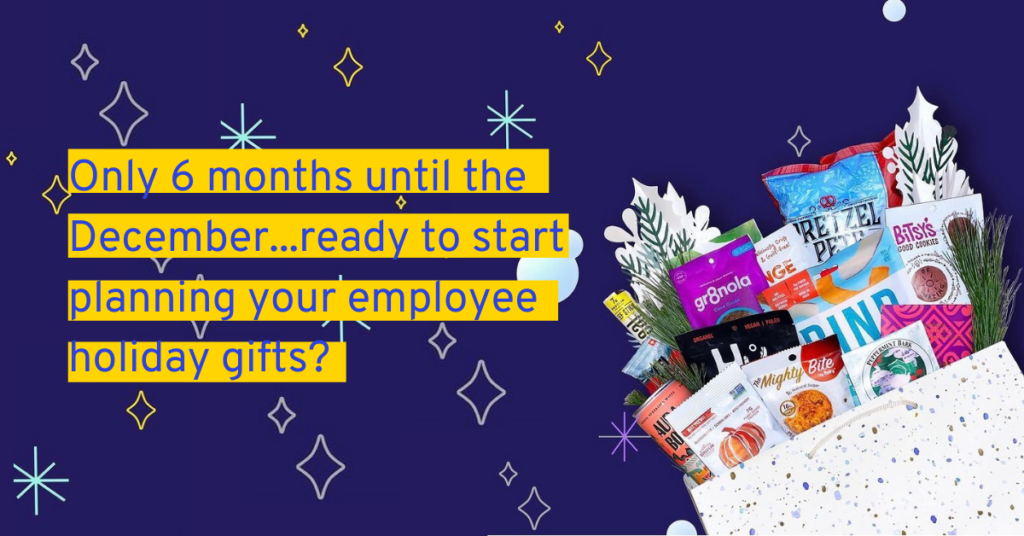 Planning ahead will save you so much time and stress, especially if the company swag is included in your order. With more jobs open than ever before, there are new hires that may be scattered around remote locations or coming to the office for the first time this holiday season. Make sure everyone feels equal with the same great team Christmas gift!
Why you should start planning now…
As business starts to return to normal, it's important to note that the job pools have hugely expanded due to global hiring. This means that over this year, companies will have to figure out team gift ideas to send to their entire globally dispersed team. We're only in July, but it's never too early to start planning for Christmas gifts for your team.
Ordering your gifts ahead of time will save a lot of stress, especially if they include company swag. Since a lot of teams are spread out all over the globe, it's now more important than ever to make sure everyone is included in the holiday celebration. With a lot of jobs open right now, there will be a mix of new hires that may be scattered around in remote locations or will be coming to the office. Both should receive the same holiday gift as a way to make employees all feel equal.
Benefits of ordering gifts in July:
Less time to shop around for great team Christmas gift ideas and deals
Easier to find a great location or date that works for everyone on your team (i.e., the office party)
Gets you prepared ahead of time so people are not rushing at the last minute!
There is no one way to execute thank you gifts for employees at the end of the year, but making an effort to show how much they mean to the company is a gesture that goes a long way. By doing your research for creative employee gifts now, there will be more smiles at work this December! Ready? Here we go… start shopping early now! 🙂
Consider buying meaningful gifts for employees…
The biggest struggle with selecting personalized gifts for employees is that they need to be scalable and inexpensive, but also meaningful. This doesn't mean you have to buy something super fancy, but more creative employee gift might have an even greater effect on employee morale. When employees are given a thoughtful gift, it will make more of an impact on how valuable the employee feels.
One meaningful gift for your team is our personalized snack boxes. You can order it for your remote team while you have your holiday party in the office, plus you can get an entire Grab & Go tray for the in-office team. The more personal and customized an employee feels at work, the better they'll feel about themselves there too!
Have gift ideas for office staff as well as your remote team…
There are plenty of gifts for employees appreciation that everyone can enjoy, but the issue with corporate gifts for employees is that you usually need to send out a massive number of gifts. The end of the year is the time that companies take to show appreciation to their employees, but with people both in the office and remote, hybrid events will take the place of usual holiday office celebrations. Finding one service to tackle all sides of this equation requires much coordination.
Making sure every person feels valued throughout the year is important so they stay invested in what you're trying to do as an organization. Holiday parties are the biggest time of the year to show your team some appreciation. This year, holiday parties will take to the hybrid model of the new normal of business, which means you'll have one team on the TV, plus a team in the office to cater to. Never fear, here are 3 services that will cater to the hybrid holiday party model:
SnackMagic & SwagMagic

Why we love it: Send your remote team a customizable snack box, swag box, or both! Treat your in-office team to their own personalized goodie bag filled with snacks and swag as well.

Hoppier

Why we love it: Give your team a credit card they can spend on whatever delivery service they'd like and any credit left over is left over you get refunded.

BreakAway (in-person delivery Denver-Metro area only)

Why we love it: You can customize a package that can be both shipped to your virtual attendees, as well delivered to guests as they check in to their Denver hotels.
Don't wait to order unique office gifts…
So what are the most unique office gifts can you get? Well, this year has seen some really cool and unusual options come up as things have gone hybrid, so the office celebrations for this holiday season will take place both virtually and in person. This means that there will be more unique gifts for employees than we had thought, which means more production time from these services. Don't wait until it's too late.
Here are 5 unique employee appreciation gifts for Christmas to order in July:
What is it? A build-your-own snack box. You pay for the snacks, they pick em out.
Why your coworker will love it: They can select from a huge menu of over 900 snacks, bevs, and desk gadgets and have it shipped to whatever address they'd like.
Price: Starting at $45
Customizable? Yes
What is it? A swag bag filled with 5 items with your company logo on it. Kits also available.
Why your coworker will love it: They can choose any 5 items they'd like from the swag menu to have a logo printed on.
Price: Starting at $25 flat for 5 items
Customizable? Yes
What is it? A guided wine tasting class with a professional, plus a flight of wine provided to hybrid attendees
Why your coworker will love it: They will all receive their own flight of wine and can join the tasting from where ever they are
Price: Starting at $400 for 100 people, wine flight is added price
Customizable? No
What is it? A garment bag and a duffle, all in one.
Why your coworker will love it: Your employees who are always traveling will love this because they can keep their suit nice and press while dozing on a red eye.
Price: Starting at $55
Customizable? No
What is it? A virtual gift that the recipient can pick themselves.
Why your coworker will love it: They can choose from a huge list of retail items ranging from kitchen wear to technology.
Price: Customizable
Customizable? Yes
Taking all these options into consideration, be ready to start planning for your employee holiday gifts sooner rather than later or risk scrambling at the last minute (definitely sucks). Book a call with our team to ensure your order is set before the fall!