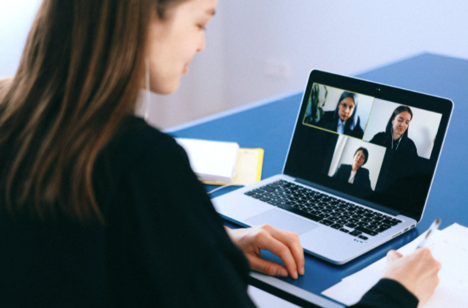 You've surely heard about "Zoom fatigue." It's what happens when remote employees have back-to-back virtual meetings. A lot of those meetings are unengaging and leave people feeling drained.

Some people are wondering, is Zoom free to use? Does Zoom cost money? The answer is yes. Zoom is free to use. Unless you have a Zoom meeting time limit, most meetings can go on for hours!
However, your list of attendees shouldn't feel this way about the meetings that you hold.
You can increase the attendees of the meeting, improve engagement levels, and battle Zoom fatigue. This is possible only if you are willing to try out new tools, tips, and other engaging techniques that will improve the experience of your Zoom attendees. There are different types of meetings in a company, and it's important to find ways to make your attendees list grow over time.
This guide isn't going to focus on how to write minutes in a meeting as a secretary or even how to circulate those minutes on emails – the tips are focused on your meeting attendees list growing and keeping people as engaged as possible.
The goal is to have non attendees want to join the next meeting especially if your 'catch up calls' have fewer and fewer attendees.
If you're ready to improve your engagement in virtual meetings drastically, then this article is for you!
Tip 1: Use Ice Breakers
You know that moment when everyone's just joined the Zoom call and there's nothing but awkward silence? That happens to the best of us, but there's a way to reverse the awkwardness and help your meeting attendees connect with each other in the first 10 minutes of the meeting.
One of the easiest ice breakers you can use for meeting attendees who are meeting each other for the first time is Two Truths and a Lie. It's a fun, lighthearted way for attendees to get to know each other as well as tell funny stories about themselves.
You can use Concept Board for this, where each meeting attendee writes three things about themselves and everyone else has to put a dot on the ones they think are true or not.
It looks something like this: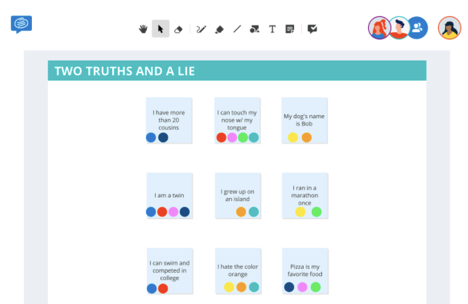 With this, you're able to learn more about all the meeting attendees and they get to learn more about each other in a fun, interactive way. You can find this icebreaker board here.
For teams that are already acquainted, it's great to start with ice breakers that let you peek into their worlds and allow their creativity to shine through. One of the ways you can do this is by asking them to take a picture of something outside their window or on their desk. They can all share those photos in one concept board where they can share their stories about their image.
The board could look something like this: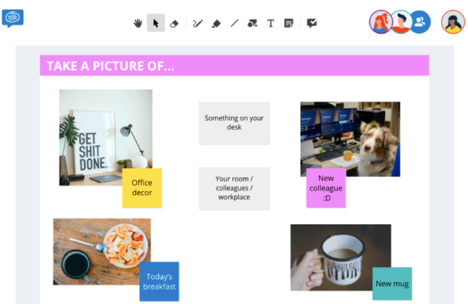 You can use this board online and share the screen for everyone to see. The whole point of activities like these is to encourage fun, and engaging interaction before a meeting starts.
Tip 2: Send Them a Snack Stash
Some people don't like to eat on camera, but it's pretty cool to have people snacking and meeting virtually at the same time. It can be a time for them to bond over the cool snack stash that the company got them and share their favorite snacks. You can buy great kits like these on SnackMagic and have them delivered to your meeting attendees.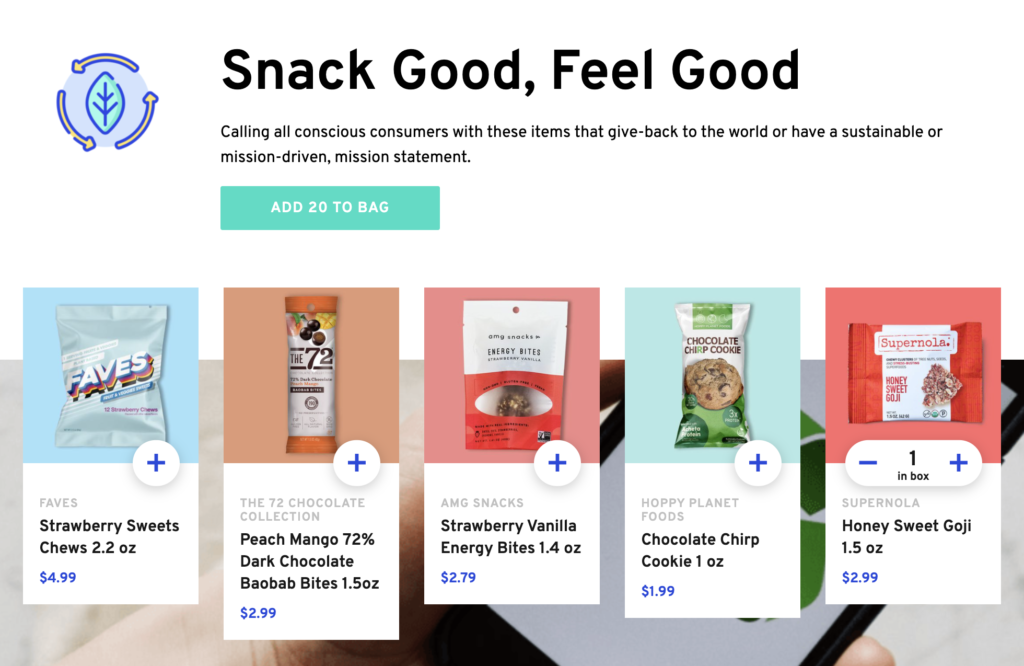 Their menu has many fun snacks that you can add to a kit that will be sent to your meeting attendees. You can view the snack stash options here. Each of the stashes can follow a theme. For example, it's now autumn season and you can use the fall collection. Or when Christmas time comes, you can do the same as well.
Tip 3: Enforce a "Camera-on" Policy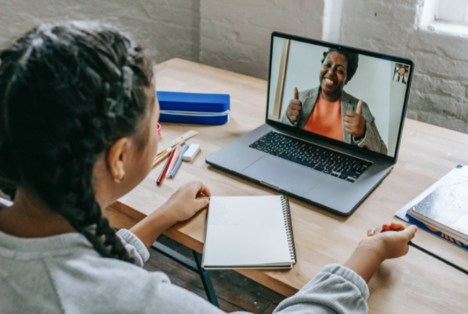 When your meeting attendees know that they're expected to keep their cameras on during virtual calls, then they'll make an effort to look presentable and pay closer attention to what is being said. If not, your meeting attendees will lay in their pools, sipping mimosas, with their cameras off and mics muted.
The camera-on policy will create a more engaging atmosphere because they will feel like they're talking to real people and not just grey squares on their screens. Another way that you can use this to your advantage is to remind them to wave hello and goodbye to increase engagement levels. It may seem insignificant, but there's a huge difference between talking to grey squares and talking to a smiling person's face.
With this policy in place, your meeting attendees will actually get to see each other in the meetings and are more likely to be engaged during those virtual calls.
Final Thoughts
You made it this far, which means that you are ready to do what it takes to improve the quality of your video calls and increase engagement with your meeting attendees. Follow these tips and come up with other great ideas to increase engagement and reduce Zoom fatigue levels.